BEIJING, Nov. 25 -- China will continue to seek to have other areas of traditional Chinese medicine (TCM) included on UNESCO's Intangible Cultural Heritage list after its success last week with acupuncture and moxibustion, a senior health official said on Wednesday.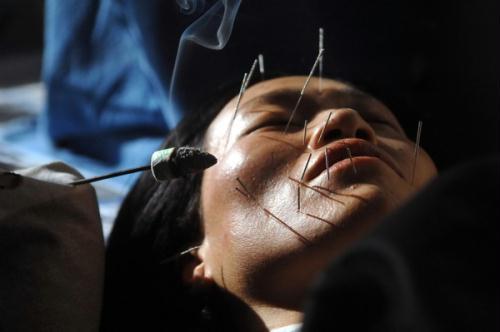 A patient receives a treatment of acupuncture and moxibustion on Nov 18 at the
traditional Chinese medicine hospital affiliated with Ningxia University in the
Ningxia Hui autonomous region.(Photo/Xinhua)
Vice-Minister of Health Wang Guoqiang, who also heads the State Administration of TCM, said: "Applications will continue for other areas of TCM to be granted the same status, though we have yet to decide what to put forward next."
So far, China has 34 items on the protected UNESCO list - 28 on the Representative List of Intangible Cultural Heritage and the rest under the category in Need of Urgent Safeguarding.
The figures confirm China's unique status in the world as the country with the most items on the list, said Yang Zhi, assistant director-general of the bureau for external cultural relations under the Ministry of Culture.
Since acupuncture is the first area of TCM to make the UNESCO list, its "recognition will help the international development and promotion of the ancient medical science", Wang said.
Historically, despite documents that show acupuncture originated in China, some countries like South Korea and Japan claim to have been the first to discover the needle treatment, experts said.
"That's largely confined to academic circles," Wang said, adding that at the UNESCO conference in Kenya last week, member countries - including South Korea and Japan - unanimously voted to confer protected status on acupuncture and moxibustion.
"Within China, the status will help rally more government support for acupuncture and TCM as a whole, so that more people at home and abroad will benefit from the relatively cheap and convenient therapy that has proven to be effective," said Huang Longxiang, a professor at the China Academy of Chinese Medical Sciences.
A course of acupuncture treatment in China is currently priced at 4 yuan (60 cents), which accounts for why many practitioners are forced to abandon the field to seek higher income.
Acupuncture's inclusion on the UNESCO list does not mean the price of being treated by this ancient practice will immediately rise, stressed Wu Gang, deputy director of the State Administration of TCM.
He said: "For the sustainable development of acupuncture, health authorities have to figure out a new price structure that satisfies practitioners and is affordable to the public."
In the meantime, the country will continue to raise public awareness of TCM, including acupuncture, to attract more users, he said. Only in that way can the protection and development of TCM be sustained, he added.
Editor:Jin Lin |Source: China Daily