BEIJING, Nov. 25 -- A visit to ready-for-the Asian Games Guangzhou throws up delightful surprises, from a laid-back colonial past to frenzied contemporary trade.
One week before the Asian Games seemed like a perfect time to tour Guangzhou, with the city getting ready to welcome guests but the frenzy yet to begin. The first advantage of the games for tourists, I noticed, was that whenever you were not sure of the way, there would be some volunteers nearby to help you.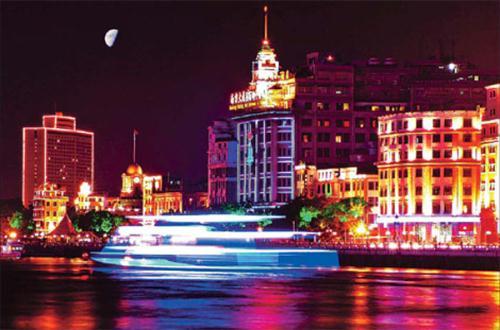 Take a cruise along the Pearl River to take in the abundance of neon light and feel
the pulse of the bustling nightlife of Guangzhou.(China Daily/Wu Lumin)
This happened to me from the moment I arrived at the Guangzhou Baiyun International Airport, where volunteers readily showed me the way to the Airport South subway station.
This station, which had been put into use only a week earlier, was another positive outcome of the Asian Games. From here you can connect to almost any corner in the city.
My destination was Shamian, a sandbank island in the Pearl River that used to be a foreign concession and is now famous for its colonial buildings. From the Huangsha subway station, it is a mere three-minute walk.
I checked into the Guangdong Victory Hotel, a neo-classical building that used to be an HSBC bank in the mid-19th century. Located on the northern bank of the island, it is separated from the mainland by a canal.
Walk around Shamian and you will see various Western-style buildings, including the Our Lady of Lourdes Chapel built by the French, and the former Czech Consulate.
They were mostly built in the 19th century, but Shamian's history of foreign contacts dates back to the Song Dynasty (960-1279), when it began to serve as an important port for Guangzhou's international trade.