Expanded trade and cooperation will strengthen economic ties
Moscow - Premier Wen Jiabao told a business forum here on Wednesday that Beijing understands Moscow's call for changing the trade structure between the nations, and encourages more and larger direct investment in the country.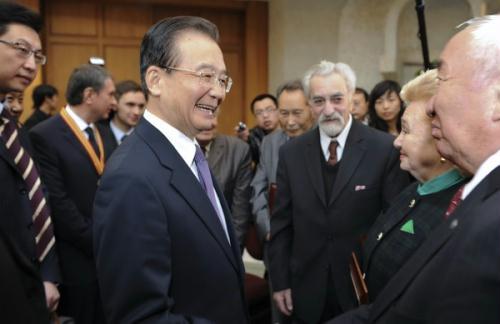 Premier Wen Jiabao in Moscow on Wednesday talks with Russians awarded prizes by the
Chinese premier for their contributions to the two countries' energy cooperation and
the teaching of Chinese in Russia. [Photo/Xinhua]
I'm glad to see that the bilateral trade structure has been improving through the two countries' cooperation in terms of machinery and high-tech products, which account for one-third of total trade volume," Wen said at the Fifth Sino-Russian Business Summit Forum held in Moscow.
He added that a special fund has been established to support Chinese enterprises that import machinery from Russia.
Wen proposed strengthening economic cooperation with Russia by expanding trade, increasing investments, deepening high-tech cooperation, as well as regulating and facilitating border trade.
"China's huge and stable demand for energy resources not only brings Russia tremendous economic benefits but also helps the country diversify its energy market," Wen said.
Starting Jan 1, Russia is due to supply oil to China through its 1,000-km cross-border pipeline, the first of its kind, with an annual capacity of 15 million tons of oil.
Wen said the pipeline will guarantee China a reliable source of oil and Russia a stable long-term market.
"It has also connected the two countries politically, economically and culturally," Wen said after the forum when giving awards to nine Russians who helped build the pipeline.
Previous successes in the sector include a combined 30-billion-yuan ($4.5-billion) investment in the northern Chinese port city of Tianjin, where China and Russia will build a crude oil refinery, and the construction of the second stage of the Tianwan Nuclear Power Plant, one of the most advanced nuclear power complexes in China, for which Russia is to build two additional reactors.
Energy projects, which are the highlight of the bilateral cooperation, will not be the only focus, according to the Chinese premier.
"We need to open up our markets, facilitate the construction of logistics and trading platforms and be cautious of taking trade remedy measures," Wen said. He also noted the great progress that has been made in cooperation in coal, forestry, new energy as well as mineral resources.
However, Wen noted, compared to their economic strengths and geographical advantages, the two countries' direct investment still lags behind.
Reaching $45.1 billion from January to October this year, total bilateral trade volume is expected to exceed $50 billion by the end of the year, close to the level before the financial crisis, according to Chinese statistics.
Wen encouraged Chinese enterprises to invest in large projects in Russia, such as building infrastructure, upgrading power systems and constructing high-speed railways.
As neighbors sharing a border of more than 4,300 km, Wen said China and Russia should also promote more trade and investment along border areas.
"We need to speed up cross-border infrastructure construction, standardize customs clearance procedure and work together to crack down on unregulated customs clearance," he added.
After the forum on Wednesday, Wen met Russian President Dmitry Medvedev, agreeing to strengthen ties and exchanging views on international and regional issues of common concern.
At a press conference prior to Wen's departure for Russia, China's Assistant Foreign Minister Cheng Guoping said that the two leaders will mainly exchange views on ways of promoting political mutual trust, broadening and deepening economic cooperation, and strengthening cultural exchanges.
Xinhua contributed to this story.
Related stories
Editor:Zhang Jingya |Source: Chinadaily