Guangzhou, November 25 - Super-heavyweight and big prospect Zhang Zhilei stopped his opponent on Wednesday to comfortably reach the final in his class, as Chinese boxers enjoyed a highly-successful day in the ring.
Home fighters will make up more than half the finalists, Zhang heading the way after the referee stepped in during round three to save India's Paramjeet Samota from further punishment.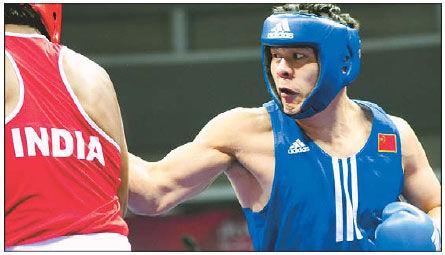 Zhang Zhilei of China (right) competes with Paramjeet Samota of India
during the Men's +91kg Boxing semifinal on Wednesday.
(Agence France-Presse)
Also in the finals is light-flyweight Zou Shiming, the highly-talented 2008 Beijing Olympic winner, after he saw off stubborn Thai Amnat Ruenroeng 5-2 on points in his semi.
Zou and Zhang, a silver medalist in Beijing, are among a new breed of Chinese fighters who are slowly putting the country on the Boxing map.
"I feel very tired after every fight," said giant southpaw Zhang, who is hoping to inject some excitement back into the professional heavyweight ranks, which are now dominated by the Klitschko brothers, Wladimir and Vitali.
"I need to talk to my coach about tactics and strategies and prepare well for the final," he said.
Zhang faces Kazakhstan's Ivan Dychko on Thursday.
The 27-year-old Chinese has been training in the United States, where he learnt some tips from heavyweight great Evander Holyfield.
China's Hu Qing, in the 60kg class, and Chang Yong (52 kg), also made it through to the finals.
"It was the crowd's support that got me going," said Chang after he squeezed through his semifinal, 6-5 on points, against India's Mayengbam Suranjoy Singh.
"Without the crowd's support I would not have won this fight, which was really tough," said Chang, who is making his international debut at the Games.
China's hard-hitting women are in all three finals - the first time Women's Boxing has appeared at the Asiad.
Editor:Jin Lin |Source: China Daily