Of all the notable contributions to humanity made by the Jewish people, world-beating cuisine is definitely not one. Yet holding true to the adage that good things come in small packages, the bagel - that classic stalwart of New Look Jewish eats - has claimed its rightful place among pizza and sushi as a top-flight culinary ambassador.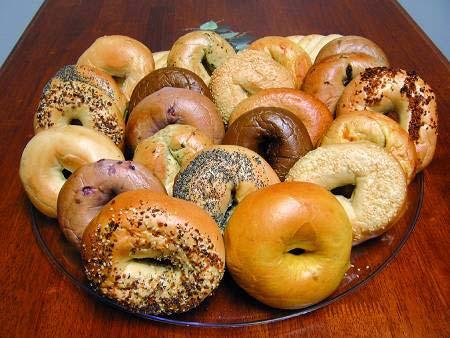 The holey trinity
Now even Beijing's tastebuds are adapting to the bagel's appeal, with a small clique of institutions popping up devoted to this deceptively hard-to-get-right ring of dough. Here, Lifestyle brings you an exhaustive roundup of the few and the proud: the bagel shops of Beijing.
Mrs. Shnen's Bagels
Lejen Chen is practically an elder stateswoman of the Beijing bagel scene (not to say that she's old, of course), having been making bagels here for 14 years. She's been operating Mrs. Shanen's Bagels, a restaurant and bagel depository in Shunyi, for almost 10 years.
Featuring what she described as some of the most sustainable, healthy ingredients available in Beijing - most grown locally in her satellite farm - the bagels at Mrs. Shanen's come in over two dozen varieties, from classic plain to pumpernickel raisin. On a recent visit, I tried an absolutely delectable "everything" bagel, a perennial favorite of bubbes everywhere, whose traditional recipe demands a hearty sprinkling of poppy seeds - a big no-no in China, for obvious reasons.
"We used black sesame seeds to substitute," Chen told me, characterizing her mission to make an authentic bagel in China as a near-quixotic quest for culinary purity amidst a sea of shanzhai substitutes.
"I've stumbled upon fake everything - I've even seen fake black sesame seeds, which were just plain sesame seeds, dyed black," she said. "Eventually I just realized that if I wanted it done right I needed to grow the ingredients myself."
This ticket into bagel heaven doesn't come cheap, with prices ranging from 120 to 160 yuan per dozen and sandwiches priced from 20 yuan for a plain bagel with cream cheese to 65 yuan for a bagel burgers. Delivery is available for orders over 150 yuan.
Address: No.5 Kaifa Jie, Shunyi顺义区西白辛庄村开发街5号
Tel: 8046-4301