A patch of wetlands that lies on the route of migratory birds, near downtown Dalian, is slowly being eaten up by property development.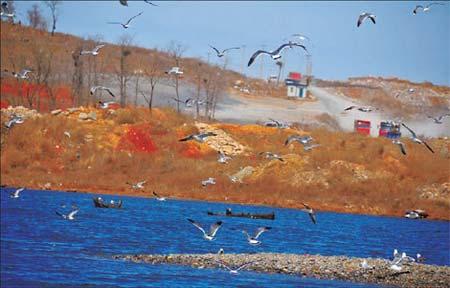 The Quanshui Wetlands near downtown Dalian is threatened by property development.
[Photo/Lu Yuwei / China Daily]
Xu Weiwei is a deeply worried man. And the object of his worry is the estuary wetlands near downtown Dalian, in Northeast China's Liaoning province. "Every winter, tens of thousands of birds stop over at the mouth of the Quanshui River on their migratory route. But now, property development is devouring their resting space," says 38-year-old Xu, an accountant who started a volunteers' initiative to protect the Quanshui Wetlands in 2008.
Fewer birds now stop at the once quiet wetlands, shrouded in the dust and noise kicked up by heavy trucks carrying stones to reclaim land from the sea, Xu tells China Daily.
He is strongly against the reclamation, saying wetlands are natural filters that must be protected.
They remove pollutants from water and help control floods, offer breeding and nesting areas for wildlife, and serve as migration corridors for birds, he says.
"This is an important rest area for migrating birds. They can find food here during their migration. If destroyed, the birds will have to change their migration routes," Xu continues.
Few residents in Dalian know this place, however.
Grassroots conservationist Xu Weiwei at the Quanshui Wetlands. [Photo/Zhang Xiaomin / China Daily
Amateur photographer Luan Yuwei used to travel to East China's Shandong province to take pictures of swans.