BEIJING, Dec. 1 (Xinhua) -- China said Wednesday that territorial and maritime disputes between states should be peacefully resolved between the parties directly involved through bilateral negotiations.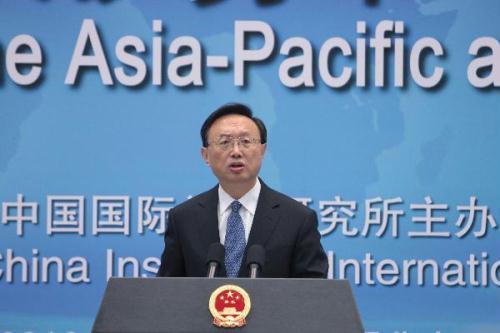 Chinese Foreign Minister Yang Jiechi delivers a speech during the Lanting Forum in
Beijing, capital of China, Dec. 1, 2010. The Lanting Forum, with the theme "The
Situation in the Asia-Pacific and China's Policy", was hosted by the China
Institute of International Studies.(Xinhua/Xing Guangli)
"We are convinced that based on consensus already reached and through the open channels of dialogue, parties will be able to properly address their own issues with their own efforts," Foreign Minister Yang Jiechi said while addressing a forum in Beijing.
Yang made the remarks as the United States seeks to step up its presence in the Asia-Pacific region. At the ASEAN Regional Forum Foreign Ministers' Meeting in Hanoi in July, U.S. Secretary of State Hillary Clinton talked at length about U.S. "national interests" in the South China Sea.
The United States' latest move came as it launched a four-day joint naval drill with the Republic of Korea (ROK) in waters west of the divided Korean Peninsula, in which U.S. aircraft carrier USS George Washington participated. It was the fifth joint military drill between the two countries this year.
"All countries should play a constructive role and refrain from creating new troubles and tensions or complicating matters," Yang said.
Countries should act in a way that contributed to regional stability, mutual trust and unity, he said.
At the forum, Yang called on countries in the Asia-Pacific region to forge a new security concept as "international security threats to today's world are more complex and diverse."
"Security issues are increasingly interrelated, affecting more areas than before. No one can singlehandedly resolve regional security issues," he said.
"We must foster a new security concept featuring mutual trust, mutual benefit, equality and coordination," said Yang. "We need to respect the security of our own countries and also the security of others and (consequently) promote common security."
"We need to address disputes through dialogue and consultations," he said.