BEIJING, Dec. 1 (Xinhua) -- Heavy fog shrouded large parts of central and eastern China Wednesday, delaying flights and stranding thousands of passengers.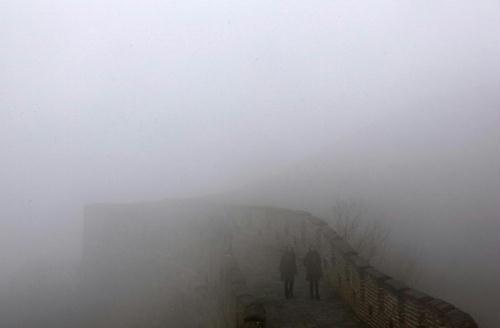 Tourists walk along a section of the Great Wall shrouded in mist at Simatai,
located in the outskirts of Beijing December 1, 2010.(hoto/Agencies)
The National Meteorological Center said the affected regions include northeast China's Liaoning Province and the North China Plain and most regions south of the Yangtze River.
A thick haze blanketed Beijing Wednesday and visibility in most parts of the city was reduced to 500 meters.
Air quality in Beijing since Monday has hovered between light- and medium-level pollution, meteorological authorities said.
In Tianjin and Hebei Province near Beijing, visibility was less than 100 meters at some times, according to local meteorological bureaus.
Heavy fog also caused temporary highway closures in Tianjin and many cities in eastern Shandong Province.
At least 82 flights were delayed in Shanghai, 26 in Tianjin, 52 in Hangzhou, capital of eastern Zhejiang Province, and 12 in Wuhan, capital of central Hubei Province, on Wednesday, according to the airports authorities.
In coastal Shandong, marine transport authorities issued fresh sail warnings as visibility on the sea was as poor as 50 meters in some areas. Vessels were banned from sailing or ordered to sail at low speeds.
The National Meteorological Center forecast a cold front to hit north and northeastern China over the next three days, bringing high winds and snow.
Temperatures will drop by around 4-8 degrees Celsius in north China, it said.
Editor:Jin Lin |Source: Xinhua