Mahmut Memet has only a vague memory of the stampede in which he and other students were injured on Monday.
The last thing he remembers is running down the stairs at Aksu No 5 Primary School and seeing classmates ahead of him tumbling on top of each other. Then everything went dark.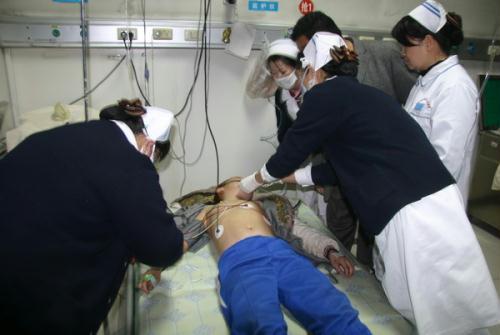 A student receives treatment at a hospital in Aksu, Xinjiang Uygur autonomous
region, on Nov 29 after he was injured in a stampede at a local primary school.
(Photo/Xinhua)
"It's frightening," he said. "The students from higher grades are all taller and stronger. I don't know how many times they trampled on me."
The 10-year-old, who escaped with minor chest and stomach injuries, was among the 123 children rushed to hospital that afternoon in the Xinjiang Uygur autonomous region. The children have since been discharged or are in stable condition following treatment, according to city health authorities.
However, safety experts say the accident could have been far worse, and warn that overcrowding and poor safety standards in schools are putting lives at risk.
"There are hazards everywhere" in our nation's schools, said Zhang Yutang, 61, a retired professor at Sichuan Normal University, although "staircases are probably the most lethal".
Zhang has looked into the causes of 28 school stampedes in the last decade and said he believes the majority could have been avoided.
"If teachers were posted on stairwells to keep order, if schools had more and wider staircases and if students were educated in what to do in an emergency, these accidents simply wouldn't happen," he said.
An investigation team of education and health officials headed by Jin Nuo, vice-chairman of Xinjiang's government, is now looking into Monday's incident in Aksu, which occurred as students headed to the playground for exercises.
Initial eyewitness reports suggest the stampede started when several children lost their footing on the 1.5-meter-wide steps.