BEIJING - Amid severe HIV/AIDS-related employment discrimination in China, legal and health experts have called for stronger protection of the rights of infected people.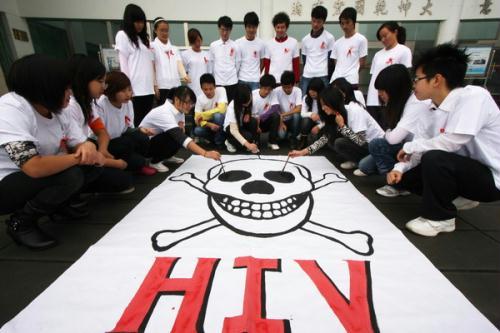 Students of Chongqing Creation Vocational College draw a poster for HIV/AIDS
prevention on Wednesday, World AIDS Day.[Photo/China Daily]
"In China 89.47 percent of HIV-infected people have lost their jobs because of their health condition," said Liu Kangmai, deputy Party chief of the National Center for AIDS/STD Control and Prevention.
Liu was speaking on Tuesday at a meeting in Beijing held jointly by the International Labour Organization (ILO), the Joint United Nations Programme on HIV/AIDS (UNAIDS) and Marie Stopes International.
On the same day, 81 HIV carriers sent a letter to the Ministry of Health, calling for the amendment to the current health examination standard for civil service recruitment.
"Our society should deal with AIDS, but not the people living with it," the letter said.
"I have to close my hair salon due to discrimination," said one of the participants, Ma Guihong from Hebei province. "I hope that our employment rights could be protected by law in the near future."
According to a report on workplace discrimination toward people with HIV in China, released on Tuesday by the ILO Beijing Office and the Chinese Center for Disease Control and Prevention, progress has been made to reduce employment discrimination in the country.
For example, the 2006 Regulation on the Prevention and Treatment of HIV/AIDS and the 2007 Employment Promotion Law both guarantee working rights for HIV-positive people.
However, securing the right to work for people with HIV in China remains a challenge. The report noted that HIV-positive people are prohibited from working in the civil service and in hotels, cafes, bars, and beauty and hairdressing salons.
According to a survey conducted in 2007 by Liu Yang, a professor at the China University of Political Science and Law, only 47.7 percent of people among 1,000 respondents agreed that people with HIV should have equal working rights.
In a 2009 report released by the UN, more than 40 percent of people with HIV in China had faced discrimination, and nearly one in six had been refused employment because of their HIV status.
Examples of discrimination against people with HIV in workplaces across the country include mandatory testing of workers, denial of job opportunities, forced resignations and restricted access to health insurance.
On Monday, the plaintiff in China's first case of alleged HIV-related employment discrimination, surnamed Wu, lodged an appeal against a district court ruling that found a local education bureau in Anhui province had not unlawfully discriminated against him when deciding not to employ him after learning of his HIV-positive status.
"Nobody can live without work and being denied employment rights is even worse than suffering from HIV," Wu said.
"People with HIV should have the same rights to employment as people who do not have HIV," said Mark Stirling, country coordinator of UNAIDS.
He also emphasized the importance of legal support from the government, the strong supervision and implementation of relevant regulations and the understanding and knowledge of the public.
"More work needs to be done to improve laws and regulations on health discrimination," said Liu of the National Center for AIDS/STD Control and Prevention. "However, we should admit that it might be a long process."
Editor:Jin Lin |Source: China Daily