BEIJING, Dec. 2 (Xinhua) -- Chinese Defense Minister Liang Guanglie met a Surinamese military delegation headed by Surinam's defense minister, Lamure Latour, in Beijing Thursday.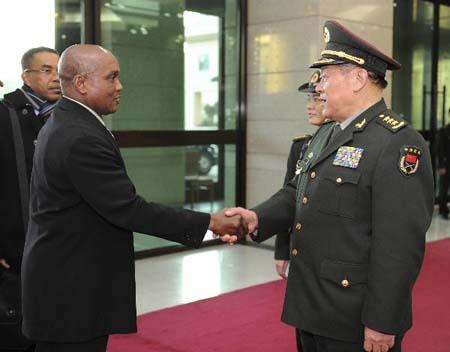 Chinese Defense Minister Liang Guanglie (R front) shakes hands with Surinam's
defense minister Lamure Latour before their talks in Beijing, capital of China,
Dec. 2, 2010. (Xinhua/Xie Huanchi)
During their discussions, Liang said Surinam is an important Caribbean country, adding that in recent years, with deepened bilateral political trust and constant high-level exchange, trade ties between the two countries have developed steadily.
Bilateral military links are a major part of the two nations' relationship, said Liang, adding that cooperation and exchange in culture, education and military affairs between the two countries have been fruitful.
Liang briefed Latour on China's defense policies and its choice of a peaceful development path.
Latour said the Surinamese government attaches great importance to developing relations with China, adding that Surinam will firmly adhere to the one-China policy.
He said Surinam will continue to expand bilateral cooperation with China in defense and military affairs.
Liang invited Latour to China for an official goodwill visit. The five-day visit began Thursday.