BEIJING, Dec. 2 (Xinhua) -- China and Russia pledged Thursday to strengthen ties between their legislative bodies.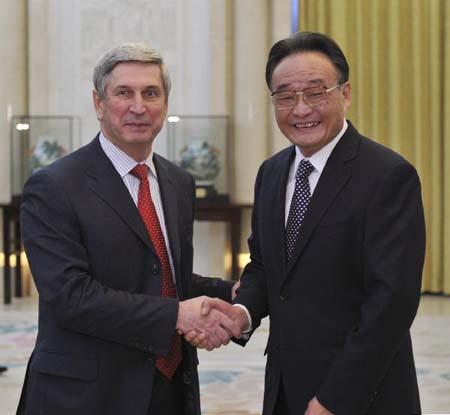 Wu Bangguo (R), chairman of the Standing Committee of China's National
People' s Congress, China's top legislature, meets with Ivan Melnikov, vice
president of the State Duma of the Russian Federation, in Beijing, capital
of China, Dec. 2, 2010. (Xinhua/Huang Jingwen)
Wu Bangguo, chairman of the Standing Committee of the National People's Congress (NPC) of China, the country's top legislature, met with Vice Chairman of the Russian Duma Ivan Melnikov in Beijing.
Wu reviewed China-Russia relations, saying the bilateral strategic partnership of coordination has grown in recent years.
As the international situation undergoes profound and complicated changes, Wu said a stronger China-Russia strategic partnership of coordination will ensure an international strategic balance and stability that will boost world peace and development.
Wu said China hopes to work with Russia to deepen political trust and cooperation while expanding people-to-people exchange and upgrading strategic coordination.
On legislative ties, Wu said cooperation between the NPC and the Duma has been fruitful and has played an irreplaceable role in boosting bilateral relations.
Wu proposed the two legislative bodies make concerted efforts to improve China-Russia exchange mechanisms.
Melnikov agreed with Wu, saying the Russian Duma takes its ties with the NPC seriously.
Melnikov said the Russian Duma will take practical measures to upgrade bilateral cooperation in trade, economy, science, technology and culture.
During his six-day visit to China, Melnikov will also travel to south China's Hainan Province.