PARIS, Dec. 14 (Xinhua) -- Rafael Nadal of Spain and Caroline Wozniacki of Denmark are named the International Tennis Federation's world champions for 2010.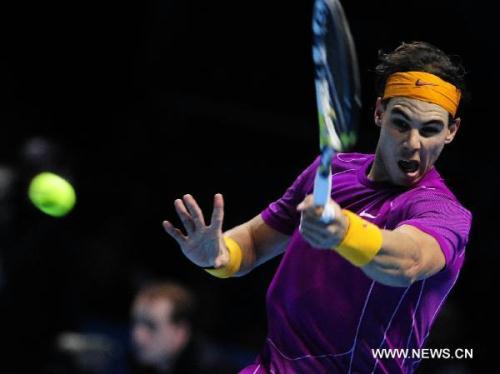 Rafael Nadal of Spain returns the ball during his semifinal against Andy Murray
of Britain in the 2010 ATP World Tour Finals in London, Britain, Nov. 27, 2010.
Nadal won 2-1 to enter the final. (Xinhua/Zeng Yi)
It is the second time that Nadal has taken the honour, while Wozniacki becomes the first Danish to receive a senior ITF award.
American twins Bob and Mike Bryan were named men's doubles world champions for a record seventh occasion, while Gisela Dulko of Argentina and Flavia Pennetta of Italy become women's doubles world champions for the first time.
In other ITF awards, Youth Olympic champions Juan Sebastian Gomez of Colombia and Daria Gavrilova of Russia were named as junior world champions.
The ITF world champions will receive their awards at the annual ITF World Champions Dinner on May 31 in Paris.