The sunshine smiles on Tang Yijun and Jing Chao, which makes one hardly connect them with the devastating earthquake that jolted Sichuan in 2008.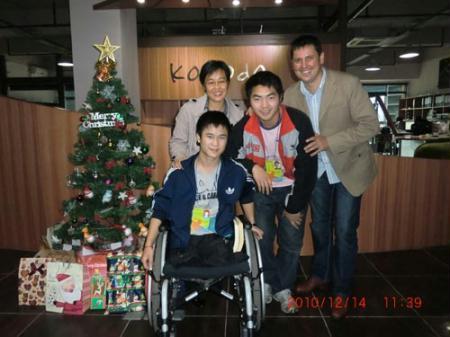 Tang Yijun (1st row) and Jing Chao (middle, 2nd row) from Sichuan Province
pose for a photo with their Guangzhou family, mother Zhang Yong (left, 2nd
row) and father Ross Duffy (right, 2nd row) on Tuesday, December 14, 2010.
The two young Wenchuan earthquake victims were invited to visit the Asian
Para Games in Guangzhou and enjoy a very good time with the family. [Photo
provided by Zhang Yong]
The two boys lost their legs when their four-story school building was flattened as the quake hit Mianzhu City, one of the worst-affected areas.
Lucky for them, Tang and his classmate survived and continued their studies in a local college, as they now join other disabled students on a guest tour of Guangzhou.
"I thought that there would be many inconveniences (for us). The time when I got off the plane, wow, I found accessible facilities everywhere. I feel so happy."
As Jing Chao said, he was touched by the way the last two torchbearers ignited the main cauldron.
"I was moved when I saw the two disabled athletes fighting hard to climb up the cliff and lit the flame together. I thought that my life might be as difficult as the same, but (as long as you work hard) you will succeed at last."
During their stay in Guangzhou, the boys are being taken care of by a transnational family. Zhang Yong, the mom, is a Nanjing native working in Guangzhou, while the father, Ross Duffy, is a businessman from Australia.
"We have the boys for several days, and (they are) very easy to communicate and they are quite independent."
The super sports fan said he enjoyed watching sports games with his "sons," which he thought is an important way to help them build a strong mind.