Highlighting the creativity and potential of original Web programming, Miss Puff's Goldfish Bowl is an animated work that breaks new ground with its adult-themed content.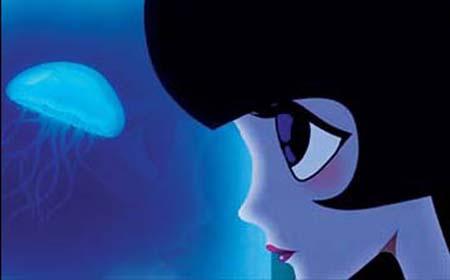 A scene from Miss Puff's Goldfish Bowl, an original Web video with an adult
theme. [Photo/China Daily]
It has created a buzz on the Internet and generated 4.5 million views since it was released three months ago.
Like Old Boys, the show is part of the 11 Degrees New Media Project series co-produced by Youku.com and China Film Group Corp (CFGC).
Centering on a love affair between the eponymous heroine, Miss Puff, a Beijing girl with a sleek figure, the show is "gelivable (awesome) because of its sexy scenes", says Pi San, the director of Miss Puff, and a pioneer of online cartoons.
"I don't think animation is a child-specific product," Pi says. "The cartoon art form can cover many subjects, it doesn't always have to deal with innocent relationships between kids.
"Like Miss Puff, animations can also depict grown-up lifestyles, love and fantasy."
Pi believes censorship of online shows is not as strict as for TV or cinema and thus the Internet is a freer environment for him.
The State Administration of Radio, Film and Television (SARFT) did, however, censor the work and demand some alterations, but the current version of Miss Puff still contains some "hot stuff", which could not be broadcast on TV, Pi says.
"As long as my works contain no unlawful content, I can dig up more adult subjects - and the Web is a perfect platform to do this," he says.
Jin Lu, distribution manager for the 11 Degrees New Media Project series, says the reason why Youku invested money in such an animated work is to enrich the genre and broaden the appeal of Web-original shows.
Editor:Yang Jie |Source: China Daily