SEOUL, Dec. 15 (Xinhua) -- South Korea staged a nationwide civil defense drill Wednesday amid heightened tensions on the Korean peninsula following the deadly shelling of Yeonpyeong Island by the Democratic People's Republic of Korea (DPRK) last month.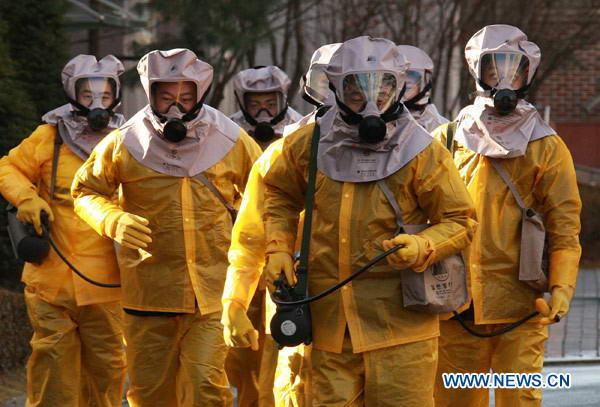 Local residents attend a civil defense drill against possible attacks in Paju, South Korea, Dec. 15, 2010. (Xinhua/Park Jin Hee)
The drill took place at 2 p.m., with air raid sirens sounding across country. As the drill began, civilians were asked to take cover in nearby air raid shelters, subway stations or other designated underground facilities.
Traffic stopped for 15 minutes as drivers and pedestrians took part in the nationwide evacuation drill.
A dozen of KF-16 jets flied over major cities including Seoul and Busan to simulate an air raid.
Classes were also suspended as students and teachers took shelter.
The National Emergency Management Agency (NEMA) said the nationwide drill was the first of its kind since a civil defense law was established in 1975.
In some parts of the country, residents participated in a drill against chemical warfare. In the border city of Paju in Gyeonggi Province, about 250 residents, police, government officials and firefighters conducted training against a possible chemical attack. Apartment dwellers headed to the basement and were advised on handling gas masks and other emergency kit.
"The drill is about taking shelter at a time of an attack, with close relations among local residents, government offices and firefighters," Park Chung-wung, chief commander at the National 119 Rescue Services, told Xinhua.
South Korea has been conducting the drills eight times a year but Wednesday's drill was the first time since 2000 that citizens were guided to shelters. Previous drills had typically been limited to forbidding pedestrians from crossing roads and requiring cars to pull off to the side.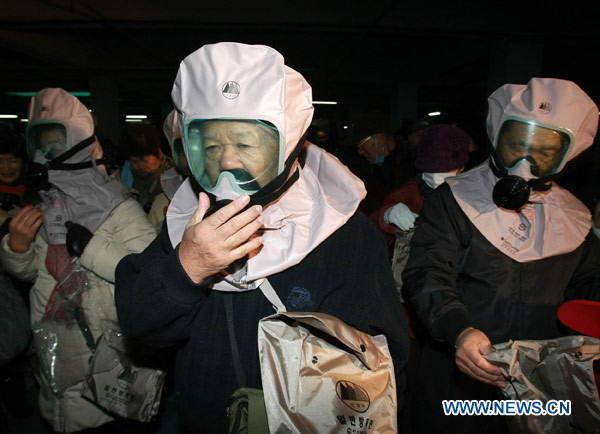 Local residents attend a civil defense drill against possible attacks in Paju, South Korea, Dec. 15, 2010. (Xinhua/Park Jin Hee)
Related stories
Editor:Zhang Pengfei |Source: Xinhua