Watch Video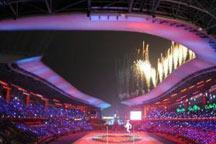 Play Video
GUANGZHOU, Dec. 19 (Xinhua) -- The inaugural Asian Para Games saw the curtain rolled down in the Aoti Main Stadium here on Sunday evening, with the flame and spirit to be kept in Guangzhou forever.
Part I - Chinese national flag raising; Flags of delegations enter stadium; Participating athletes enter stadium WATCH VIDEO>>
Part II - Art performances WATCH VIDEO>>
Part III - Speeches by leader and officials; Asian Para Games flag lowering; South Korean national flag raising; Torch & Flags handover ceremony; Extinguishing of Para flame WATCH VIDEO>>
SLIDESHOW: Closing Ceremony of Asian Para Games
Dato' Zainal Abu Zarin, the President of Asian Paralympic Committee (APC), declared the Games close and hailed the Games "the best Games for athletes ever staged in Asia so far".
"The last eight days will live long into our memories, but I am sure the legacy of these Games will last even longer," said the head of APC in his speech.
Before the extinguishing of the flame, a torch was lit from the caldron, keeping the flame, as well as the spirit, forever in Guangzhou after the closing of the first-ever Asian Para Games.