MOSCOW, Jan. 2 (Xinhua) -- Experts on Sunday began to examine flight recorders recovered at the site of a passenger aircraft that exploded and caught fire at a Siberian airport one day ago.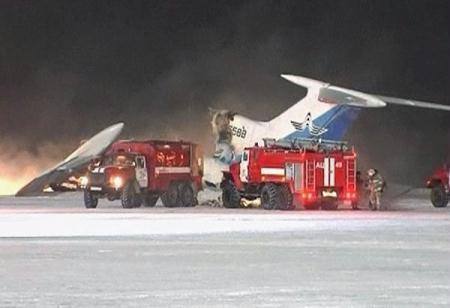 Fire fighting vehicles park near a Tupolev-154 passenger plane that caught
fire and blew up in Surgut Airport in Western Siberia in this still image
taken from video January 1, 2011. (Xinhua/Reuters Photo)
"The onboard data and voice recorders have been recovered and the commission has started to study them," said the Interstate Aviation Committee.
Fire started in one of the engines of the Tu-154 jet, belonging to the regional Kogalymavia airline, on Saturday afternoon at the Surgut airport, when the plane taxied for takeoff. It caused a powerful blast that destroyed the aircraft and spread flames across an area of 100 square meters.
At least three were killed and over 40 others injured in the incident. Most of the passengers and crew members had been evacuated before the explosion.
A total of 116 people, including nine children, eight crew members and ten specialists of Kogalymavia, were aboard the plane bound for Moscow, said the airline Sunday. Earlier reports said 124 people were on the plane.
The airline said all crew members suffered from burns and toxic poisoning during the incident. It also pledged compensation to passengers.
"The Kogalymavia airline is providing help to passengers of the flight and is ready to pay compensation for health damage and luggage (lost as a result of the accident) in line with current laws," said the company as quoted by the RIA Novosti news agency.
A criminal investigation has been launched into the blast.
Related stories
Editor:Zheng Limin |Source: Xinhua