All ice-covered highways in Southwest China's Guizhou Province have reopened as of 4 pm Monday after being shut down for over 30 hours, stranding thousands of drivers and passengers in the freezing weather.
Traffic began to slowly return to normal Monday morning after the province's transport department began opening the closed highways.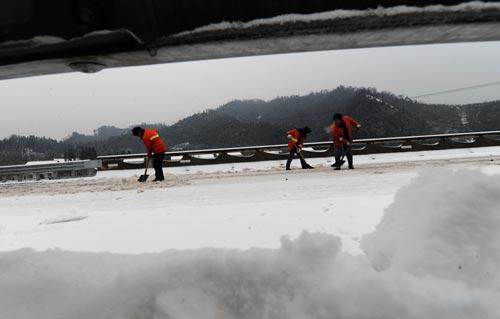 Road administration workers clear the ice covered on the Changde-Jishou Highway in
Central China's Hunan province, Jan 3, 2011. Nearly 10,000 workers and officials
have been working around the clock since Saturday to keep traffic moving on the icy
expressways in Hunan.(Xinhua Photo)
Rainfall fell in the province Saturday night, and quickly turned to ice as thick as two centimeters in the freezing weather, leaving more than 7,000 passengers stranded in their cars as almost all expressways in the province were closed, according to the Guizhou Provincial Department of Transport.
The lives of more than 1.6 million people in the province were also affected by the freezing weather and icy roads. Direct economic losses were estimated at 70 million yuan (about $10.6 million), according to statistics released Monday by the provincial civil affairs department.
Also, vegetable prices in Guizhou have jumped in the past three days as many delivery trucks became stranded. For instance, the wholesale price for Chinese cabbage at a vegetable market in the provincial capital Guiyang rocketed to 0.8 yuan Monday from 0.2 yuan three days ago.
To curb vegetable price hikes, the city government is rushing to pick and purchase more vegetables from nearby villages. It also ordered traffic departments to give priority to trucks delivering vegetables.
Thousands of travelers were also stranded in neighboring Hunan Province, Guangxi Zhuang Autonomous Region and Chongqing Municipality, as road links with Guizhou were cut.
As of 6 pm, all of the over 6,500 vehicles heading to Guizhou but stranded in the neighboring provinces have successfully made their way into Guizhou, according to the department.
In Hunan, long-distance buses carrying more than 6,000 passengers had been redirected late Sunday after being delayed on an expressway for one day.