BEIJING, Jan. 4 (Xinhuanet) -- Apple Inc.'s market valuation has reached 300 billion U.S. dollars, according to San Francisco Chronicle on Tuesday.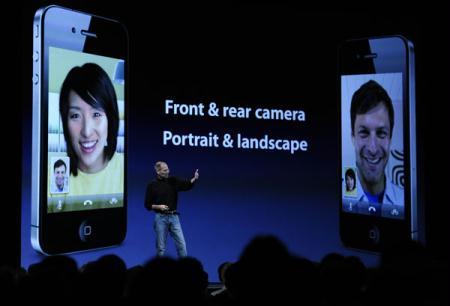 Apple CEO Steve Jobs demonstrates the new iPhone 4 during the Apple Worldwide
Developers Conference in San Francisco, California, the United States,
June 7, 2010. (Xinhua File Photo)
Apple shares rose 2.32% in Monday trading, which means that the company's market valuation has topped 300 billion U.S. dollars, only behind two oil giants ExxonMobil and PetroChina, for the first time in its history.
Apple has gained fame and money for its launching of iPhone 4 smartphone and the debut of its evolutionary tablet computer iPad half a year ago.
Internet geeks have claimed that Steve Jobs' Apple has attracted more gravity than Isaac Newton's Apple in the Web 2.0 era.
Editor:Zheng Limin |Source: Xinhua