Eight, ba, is a lucky number in Chinese culture, phonetically similar to "make a fortune," and so eight kinds of ingredients are used in making the porridge, Zhao said. "Different places have different ways of making porridge, according to local taste," Zhao said. "But red bean is always included in the ingredients. Red can dispel evil factors and bring you good luck."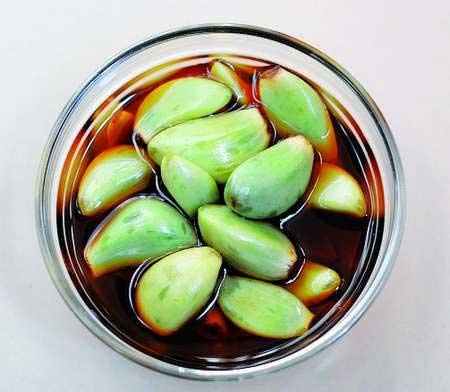 Another Laba food is Laba garlic, which is particularly popular in northern China. "The temperature on Laba Day usually drops very low, so it's very good for making it," said Zhang Xia, a 70-year-old local Beijnger who still keeps that tradition on Laba Day. "It is quite easy to make. Garlic, vinegar and sugar are the only three things you need. It takes about 10 days." Zhang says garlic is very healthy, perfect to eat along with dumplings, the most popular food people eat during the Spring Festival. "Garlic in Chinese, suan, shares the same pronunciation with 'calculate,'" Zhao said. "Families, especially businessmen, usually make a thorough calculation of the whole year's income and expenditures or loans to see if they made money or not on that day, and thus such a tradition is maintained."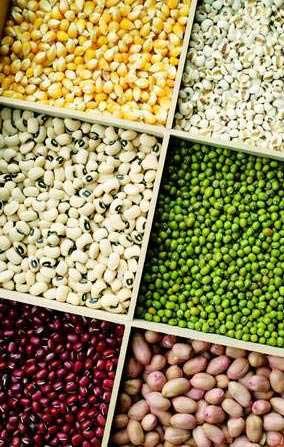 Another snack Beijingers like to eat is tanggua, a very sticky candy made of yellow rice and barley shoots that is hard and crispy when frozen, and extremely soft and sticky when warmed up. Eating tanggua is actually a very typical tradition on December 23 (in the Chinese lunar calendar), but it has started getting popular on the Laba Day already, because it presages the coming Spring Festival, and people want to get a jump on all the sweet snacks.
Sticky candy like tanggua is an interesting tradition: "The kitchen god will report to the Jade Emperor about the good and bad things people did, and so people worship him with very sticky, sweet snacks to keep his mouth sweet in front of the emperor," Zhao explained. "And the sticky mouth will also prevent him from telling too many bad things."
Editor:Yang Jie |Source: Global Times