MEXICO CITY, Jan. 17 (Xinhua) -- A group of armed men Monday attacked a prison in Aquiles Serdan, Chihuahua state, northern Mexico and helped 12 prisoners escape, the state authorities said.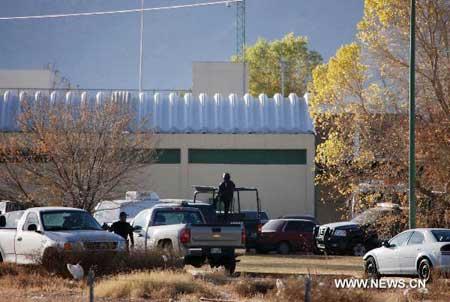 Policemen guard outside the Aquiles Serdan city jail located on the outskirts
of Chihuahua, Mexico, on Jan. 17, 2011. Twelve prisoners escaped from a prison
in Chihuahua with the help of an armed group that broke a hole into the wall
of the prison with a van and drove away. (Xinhua/Octavio Flores)
At 5:30 a.m. local time (1130 GMT), some inmates had a skirmish with the prison guardians. Outside the jail, a group of gangs, who arrived aboard two vans, knocked down the metallic mesh and then blew a big hole in it.
After the skirmish and the grenade blast, a dozen prisoners boarded the vans and escaped. One of the vans was later found 2 km away from the prison.
Related stories