TIKRIT, Iraq, Jan. 18 (Xinhua) -- A suicide bomber blew himself up Tuesday among a group of police recruitments in Iraq's northern city of Tikrit, now leaving at least 60 people killed and around 150 others wounded, a local police source in Salahuddin province told Xinhua.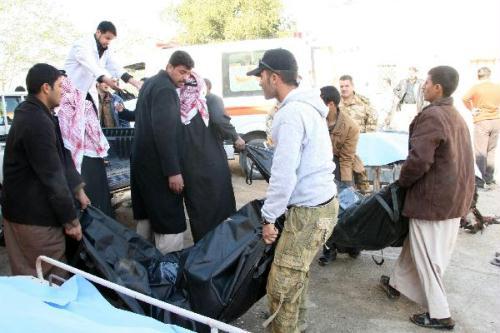 Residents transfer the bodies of bomb attack victims to a hospital in Tikrit, some
150 km north of Baghdad, January 18, 2011. A suicide bomber wearing a vest filled
with explosives attacked Iraqi police recruits on Tuesday in former dictator
Saddam Hussein's hometown of Tikrit, killing at least 60, officials
said. (Xinhua/Reuters Photo)
"The death toll has increased to 60 and more than 150 others wounded," said the provincial police source who refused to be named because he was not authorized to speak to the media.
Many wounded people were in critical condition, a Tikrit mosque has started to urge local people to donate blood, he said, adding a lot of them were taken to hospitals in nearby cities like Baghdad, Mosul and Kirkuk because the capability of hospitals in Tikrit were limited.
A doctor named Mustafa in Tikrit hospital told Xinhua that dozens of patients were taken to the hospital and there were very dangerous situations.
"We tried best to save lives of those wounded people," he said.
Witnesses said there were about 300 people in line to join the police when the attack occurred.
One of the people who want to join the police, in an interview with Xinhua, said "where is security? and why the officials did not prevent the suicide bomber from entering the site ?"