WASHINGTON, Jan. 19 (Xinhua) -- U.S. President Barack Obama Wednesday night hosted a state dinner at the White House in honor of Chinese President Hu Jintao, who is currently on a four-day state visit to the United States.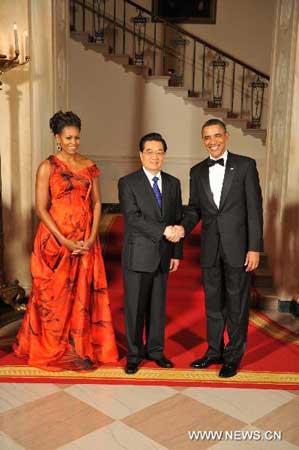 Chinese President Hu Jintao(C) attends a welcome banquet
hosted by U.S. President Barack Obama(R) at the White
House in Washington, the United States, Jan. 19, 2011.
(Xinhua/Huang Jingwen)
Addressing the welcoming dinner, President Hu said that he and Obama agreed to build a China-U.S. cooperative partnership based on mutual respect and mutual benefit.
"Under the current circumstances, our two countries share broader common interests, shoulder higher common responsibilities, and face more severe common challenges than at any time in history," Hu said.
"As a result, it is more important than ever for us to maintain the long-term, sound and steady growth of our bilateral relations. This is the reality we face and it should be recognized by both sides."
The Chinese leader said the two countries should pursue their bilateral ties with a stronger conviction, a broader vision and a more proactive approach.
"We need to take solid steps and make pioneering efforts to fully tap the potential of cooperation and strive for new progress in China-U.S. relations," he said.
"I am confident that with joint efforts, China-U.S. cooperative partnership will yield bountiful fruits for the greater benefit of our people, and make new and bigger contribution to the noble cause of world peace and development," Hu said.
Obama said in his toast that the United States and China should treat each other with "fair respect." He said throughout history, the people of the two countries have worked together for mutual benefits.
Related stories