BEIJING, Jan. 20 (Xinhua) -- Major foreign media have been positive in their coverage so far of Chinese President Hu Jintao's four-day visit to the United States, which began Tuesday.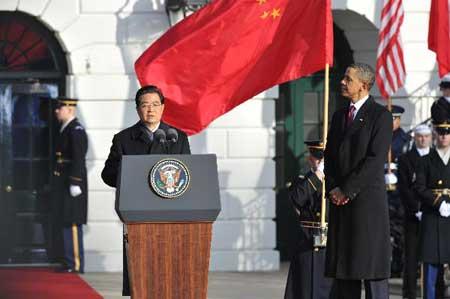 Chinese President Hu Jintao speaks at a welcoming ceremony held by U.S. President
Barack Obama on the South Lawn of the White House in Washington, the United States,
Jan. 19, 2011. (Xinhua/Huang Jingwen)
AP said Obama was lavishing the grandest of White House welcomes on Hu as the leaders of the two powers looked for common ground on economic and security issues without alienating their domestic audiences.
"I absolutely believe China's peaceful rise is good for the world, and it's good for America," Obama said.
The Washington Post said Obama stated several times that the United States does not fear a stronger China and that Washington has no interest in blocking Beijing's emergence as a superpower.
It also said Hu's visit, in addition to serious policy matters, featured a fair amount of glitz. He arrived at the White House to a 21-gun salute and was sent off with a state dinner.
The Wall Street Journal said President Obama is looking to assure Americans that they should not fear China's economic rise, using Chinese President Hu's high-profile state visit to announce job-creating business deals worth billions of dollars to U.S. companies.
Related stories