NEW YORK, Jan. 20 (Xinhua) -- Eight-time Grand Slam singles champion Andre Agassi has been elected to the International Tennis Hall of Fame, officials confirmed on Thursday.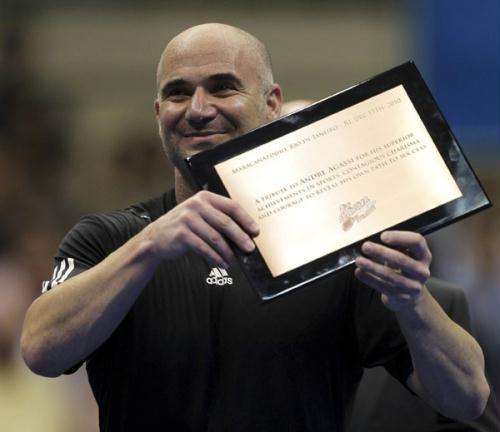 Andre Agassi of the U.S. shows a plaque he received after an exhibition tennis
match against Brazil's Gustavo Kuerten in Rio de Janeiro December 11,
2010. (Xinhua/Reuters file Photo)
Agassi's induction ceremony will be conducted July 9 at the Hall of Fame in Newport, Rhode Island, during the ATP Hall of Fame Championships grass-court event. He will be the only enshrinee in the recent player category.
"During his 20-year career Andre Agassi recorded some of the most incredible achievements in tennis," Hall of Fame chairman Christopher Clouser said.
"The energy and excitement that he personally brought to the game inspired generations of players. Andre is a true champion of the game and we are delighted to honor him for his contributions and achievements."
Former world number one Agassi announced the honor at Agassi Prep, the public charter school he founded in Las Vegas in 2001 for at-risk youth.
The 40-year-old American topped the rankings for 101 weeks and went 870-274 with 60 titles in his career, including four Australian Opens, two US Opens, one Wimbledon and one French Open plus the 1996 Olympic singles gold medal.
Agassi's 1999 French Open triumph gave him a career Grand Slam and made him the first such man to have won the titles on three different surfaces, grass, clay and hardcourt.
Roger Federer, Don Budge, Roy Emerson, Rod Laver and Fred Perry are the other men to complete the career Grand Slam.
Editor:Zheng Limin |Source: Xinhua