CHICAGO, Jan. 21 (Xinhua) -- Chinese President Hu Jintao continued his state visit to the United States on Friday with a tour of a high school in Chicago, his only stop outside Washington during the four-day trip.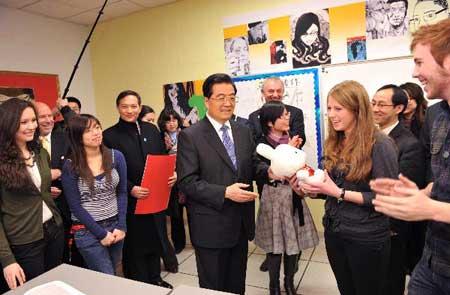 Chinese President Hu Jintao visits Walter Payton College Preparatory High School
in Chicago, the United States, Jan. 21, 2011. (Xinhua/Huang Jingwen)
Hu, accompanied by local officials, visited Walter Payton College Preparatory High School in downtown Chicago.
The high school established the only Confucius Institute in the United States that is housed in a K-12 environment and which primarily focuses on the Chinese language and cultural education programs.
Later in the day, Hu was to visit an exhibition in suburban Chicago showing achievements of Chinese companies in the midwestern United States.
At least 40 Chinese businesses now have operations in the Chicago area, and the number is growing. For example, Wanxiang America Corp., which makes solar panels, has opened plants and a headquarters around Chicago in the last two years.
In addition, Chicago-area businesses such as Boeing, Motorola, McDonald's, Abbott and Wrigley have expanded operations in China. On Wednesday,President Barack Obama announced new business deals with China worth 45 billion U.S. dollars, including a highly sought 19 billion-U.S.-dollar deal for 200 Boeing airplanes.