BEIJING, Jan. 21 (Xinhua) -- China Investment Corp (CIC), the country's 300 billion U.S. dollars sovereign wealth fund, announced Friday it had opened its first foreign representative office in Toronto.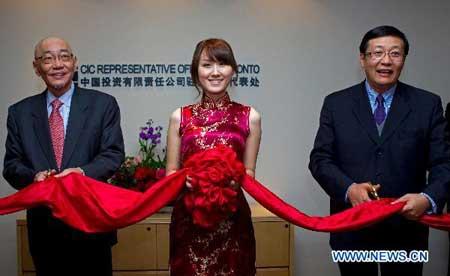 Chairman and Chief Executive Officer Lou Jiwei (R) of China Investment Corporation
(CIC) cuts the ribbon with Felix Chee, Chief Representative Officer of CIC
Representative Office in Toronto (L) during the inauguration ceremony of the CIC
representative office in Toronto, Canada, Jan. 20, 2011. CIC, China's sovereign
wealth fund, on Thursday inaugurated its first foreign representative office in
this Canadian city. (Xinhua/Zou Zheng)
Felix Chee was named chief representative officer in Toronto. The 63-year-old Chee was once CIC's chief investment officer (CIO), and before that he served as CIO of the Canadian company, Manulife Financial.
The Toronto office will seek to enhance CIC's cooperation with local companies and promote its overall investment business in Canada, according to its statement.
Last year, CIC opened a wholly owned unit in Hong Kong.
CIC, which also holds large stakes in China's major state-controlled banks, added 58 billion U.S. dollars to its overseas holdings in 2009, mainly in publicly traded stocks and bonds.
The fund was set up in 2007 with a mandate to earn a higher return for the government.
Editor:Yang Jie |Source: Xinhua