HONG KONG, Jan. 21 (Xinhua) -- Hong Kong Disneyland, which was opened in September 2005, launched a year-long event "Celebration in the Air" on Friday to celebrate its 5th anniversary.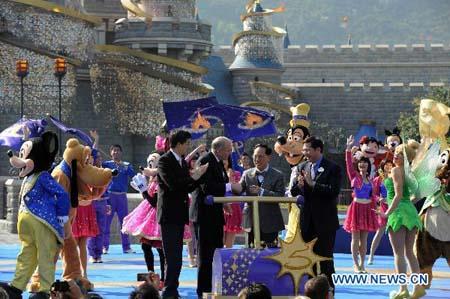 Donald Tsang (2nd R), chief executive of the Hong Kong Special Administrative
Region, and Philip Yung (1st L), Commissioner for Tourism, attend the opening
ceremony in Hong Kong, south China, Jan. 21, 2011. Hong Kong Disneyland held
celebration for its 5th anniversary and kicked off the year-long program
"Celebration in the Air" Friday. (Xinhua/Song Zhenping)
Hong Kong's popular singers Kelly Chen and Hacken Lee entertained tourists with the theme song for "Celebration in the Air", along with the first-ever appearance of Tinker Bell, Mickey in his celebratory costume and many other beloved Disney characters.
The Chief Executive of the Hong Kong Special Administrative Region Donald Tsang and other officials attended the celebration event opening ceremony.
Then, the inaugural showing of the all-new "Flights of Fantasy Parade" began. Seven sets of float featuring Disney characters and more than 80 performers joined the parade.
One of the floats "mickey's magical airship" wowed tourists when it brought the performance stage up to 40 feet high.
There are two interactive stops throughout the parade, making kids especially excited.
According to Hong Kong Disneyland, as the key program of the " Celebration in the Air", "Flights of Fantasy Parade" was an 18- month collaboration of world-class talent from Disney Parks around the world.
The team also invited renowned costume designer Mirena Rada from New York to work with the local costuming team on a series of dazzling costumes that are practical enough for performers in the air.
The Park's signature centerpiece "Tinker Bell Castle" was illuminated for the first time on Friday. The Castle glistened by day and illuminated at night, making it one of the most photogenic icons in the Park.
"Since the opening day the team has welcomed over 25 million guests from around the globe," said Bill Ernest, President and Managing Director (Asia), Walt Disney Parks and Resorts.
"Our guests are not only attracted by this magical park, but also by the stunning, natural beauty of our environment here in Hong Kong. No other Disney Resort has our mountain vistas and bayside location," he added.
Hong Kong Disneyland, the world's smallest Disney theme park, was open to visitors on Sept. 12, 2005. It was jointly built by the Hong Kong government and Walt Disney and Co., the world's largest media company and theme-park operator.