CHANGCHUN, Jan. 22 (Xinhua) -- Chinese Vice President Xi Jinping stressed political integrity as the most important criteria in electing Communist Party cadres, during his three-day inspection tour in northeast Jilin province, which ended Saturday.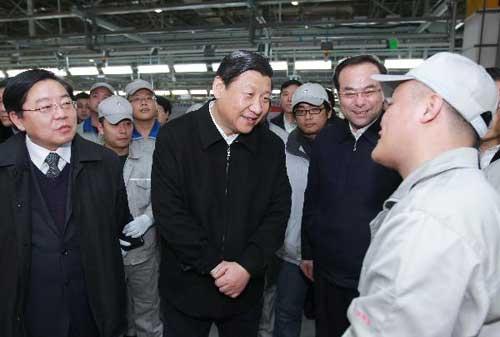 Chinese Vice President Xi Jinping (2nd L front) talks with a staff member at
a workshop of FAW car factory in Changchun, capital of northeast China's Jilin
Province, Jan. 21, 2011. Xi made an inspection tour in Jilin from Jan. 20 to 22.
(Xinhua/Ju Peng)
The standards of political integrity and professional competence, with the former being the most important, should be strictly observed in the upcoming election of the new term for Party Committee members at provincial, city, county and township levels, Xi, a Standing Committee member of the Communist Party of China (CPC) Central Committee Political Bureau, said.
During his meeting with leaders of the provincial Party Committee and provincial government of Jilin, Xi said efforts should be made to reinforce the notion of putting people first and exercising the state power for the people among carders.
While visiting a community Party organization, Xi also asked grass-roots Party organizations to give priority to building a closer bond with the public and serving the public.
During his visit to several companies, including Changchun-based First Automobile Works, Xi called for efforts to develop technology-intensive industries and the manufacturing of high-end products to promote economic restructuring.
He also visited flood-hit areas to observe the relocation of flood victims and reconstruction work. Jilin Province was hit by unprecedented floods last July and August.
He asked local governments to rebuild flood-damaged homes as soon as possible and repair those destroyed water conservancy projects and encourage farmers to grow crops on flooded lands.
Related stories