CARACAS, Jan. 30 (Xinhua) -- Venezuelan President Hugo Chavez on Sunday said that the fire in the arms depot in central Venezuela, which killed one people and wounded some 40 others, was "strange."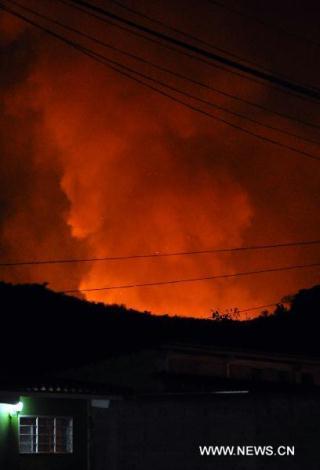 Fire burns at a Venezuelan army ammunition depot in
Maracay, Venezuela, on Jan. 30, 2011. A fire set off
a series of explosions at a military arms depot,
killing at least one person and leading authorities
to evacuate about 10,000 people from the area.
(Xinhua/STR)
According to Chavez, the fire, which began on Sunday at 4:00 a.m. local time (0830 GMT)in Maracay city, Aragua state, was suspicious as it occurred during a night in a high and large storage without electrical system and where nobody should be there at that time.
However, "everything is possible, so we will launch a scientific investigation and will get the pertinent conclusions," he said.
Chavez went to the scene of the fire to inspect the damage caused by the fire.
Chavez congratulated the Armed Forces for their work and congratulated the firemen in charge of controlling the fire.
"We must congratulate them, because they did a heroic action, putting on risk their lives due to the risk of explosions. Without their work, it could have turned into a bigger tragedy," he said.
Chavez also expressed his sympathy to the relatives of the only fatal victim.