SEOUL, Jan. 31 (Xinhua) -- South Korea captain Park Ji-sung on Monday publicly announced his retirement from international duty with the national team after winning his 100th cap in the Asian Cup.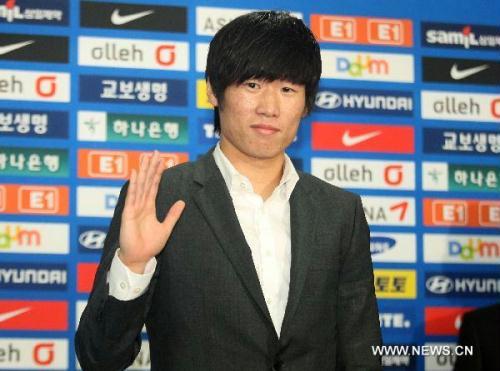 South Korea's famous football player Park Ji-sung attends a press conference in
Seoul, capital of South Korea, Jan. 31, 2011. Park Ji-sung, who has played for
South Korea in each of the past three FIFA World Cups, announced his retirement
from international play on Monday.(Xinhua/Park Jin Hee)
"It's been an honor to have played for the national team for the last 11 years, and many great things have happened along the way," the 29-year-old player said in a press conference in Seoul.
"I'm honored to have been able to play wearing the national team uniform that I'd dreamed of as a young boy."
Park's retirement came after South Korea finished the Asian Cup in third place. Park did not appear in the third-match against Uzbekistan in Qatar which his team grabbed a 3-2 victory. After the match, South Korea coach Cho Kwang-rae said Park and defender Lee Young-pyo will both retire.
Park joined the century club of appearances for the national side in the Asian Cup semifinal loss to Japan last week.
"Many young players have shown good performances, and it has been proven through the Asian Cup that the young generations can fully demonstrate their abilities in the national team," Park said.
"I think now is the time for me to step down from the national team so that other players can have more opportunities. And this will be more helpful for the national team to prepare for the 2014 FIFA World Cup."
Asked about his career future, Park said: "I haven't decided what year I'll retire, but I think I'll be playing at least three or four more years," adding it would not be in internationals even if he were asked to represent South Korea at the World Cup finals.
The Manchester United midfielder became the first South Korean to play in a European Champions League final when his club lost to Barcelona in 2009. He has also won three Premier League titles and three League Cups with the English club.
Park made his international debut in 2000 and was part of the national team that advanced to the semifinals of the 2002 World Cup co-hosted by South Korea and Japan. He featured two more World Cups in 2006 and 2010.
Looking back his years on the national team, Park recalled: "The happiest moment in my life was when I heard I was selected as a member of the national team. And the 2002 World Cup was also really a happy moment."
Park also touched upon his health issue related to knee pain. He has suffered right knee pain after two major operations, and said this was also a factor in his decision.
"If there were no injuries, I could have continued my national team career as physically difficult as it is. But I have not thought about refusing to play for the national team because of that," Park said.
His fans, who came to support Park's decision, said proudly of the departing captain of the national team.
"He seemed to be the best leader in the team, and I'm really sad because it will be hard to see him often as he retires from the team," said Oh Jung-mi, 18.
Related stories
Editor:Zhang Ning |Source: Xinhua