BEIJING, Feb. 15 (Xinhua) -- Chinese Vice Premier Wang Qishan told a U.S. business delegation Tuesday that China would create a sound environment for business cooperation between the two countries.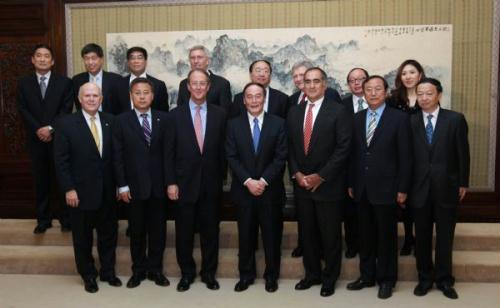 Chinese Vice Premier Wang Qishan (C front) poses for a group photo with members
of a visiting U.S. business delegation headed by John Mack, chairman of Morgan
Stanley, in Beijing, capital of China, Feb. 15, 2011. (Xinhua/Pang Xinglei)
Praising the contribution of U.S. businesses to the sound development of China-U.S. relations, Wang said more exchanges between business people from the two countries would help promote bilateral trade cooperation.
Executive chairman of Morgan Stanley and chief delegate John Mack said the U.S. business community would increase exchanges and cooperation with Chinese counterparts and play a positive role in the sound development of bilateral relations.
The delegation, composed of the heads of many major U.S. companies, including General Motors, is visiting China from Feb. 13 to 16 for unofficial exchanges with Chinese businesses, including China National Offshore Oil Corporation and CITIC Group, according to the China Council for the Promotion of International Trade.