ALI, Tibet, Feb. 17 (Xinhua) -- Twenty-nine people have been rescued after their vehicles became stuck in deep snow for hours on a highway in Tibet Autonomous Region, local traffic police said Thursday.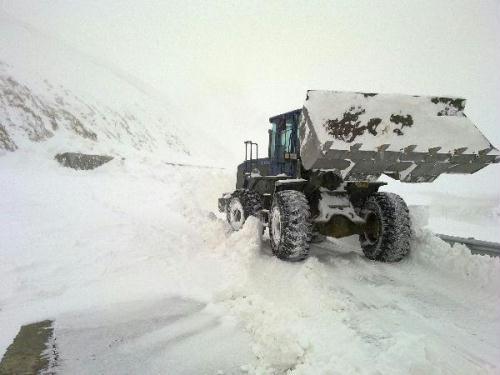 A front-end loader clears a path through deep snow on a crucial national
road link in Ali Prefecture, southwest China's Tibet Autonomous Region,
Feb. 16, 2011. Heave snowfalls have hit the region since Sunday and
paralyzed the traffic along the Xinjiang-Tibet Highway. Rescue teams
equipped with heavy vehicles were sent out to transfer snowbound travelers
and clean snow from roads. (Xinhua/Pi Feng)
A blizzard began to pelt Ali Prefecture in the western part of Tibet on Sunday, dumping up to one meter of snow on the ground.
Heavy snow paralyzed parts of the Xinzang Highway that links Tibet to its northern neighbor Xinjiang, stranding 29 people in at least three coaches and a truck in temperatures as low as minus 30 degrees Celsius for up to five hours on Tuesday evening.
A team of soldiers rushed to the site at around 8 p.m. Tuesday and gave the people food, water and clothes and sent them to a nearby town.
Soldiers had cleared about 160,000 cubic meters of snow by Thursday morning along the route but many sections of the highway remained closed due to continuous snowfall.
Editor:Du Xiaodan |Source: Xinhua