BEIJING, Feb. 27 (Xinhua) -- Chinese Premier Wen Jiabao said Sunday that the country aims to reduce energy consumption per unit of gross domestic product (GDP) by 16 to 17 percent by 2015 from 2011 levels.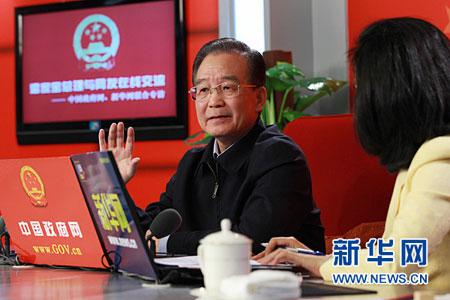 Chinese Premier Wen Jiabao (L) holds an online chat with Internet users at
two state news portals in Beijing, capital of China, Feb. 27, 2011. The two
portals, namely www.gov.cn of the central government and www.xinhuanet.com
of the Xinhua News Agency, jointly interviewed Premier Wen on Sunday with
questions raised by netizens. (Xinhua/Pang Xinglei)
Wen made the pledge during an online chat with netizens.
Editor:Du Xiaodan |Source: