BEIJING - Zhang Pingyi never expected that a trip to a remote village in Sichuan province would change the course of her life.
In 1999, Zhang, then a journalist in Taiwan, was curious about a village in Zhaojue in the Liangshan Yi autonomous prefecture.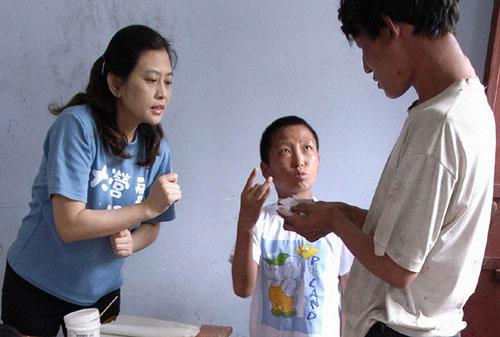 Zhang Pingyi, a journalist-turned-volunteer from Taiwan, talks to children in a
leprosy-plagued village in the Liangshan Yi autonomous prefecture, Sichuan
province, in this file photo. Provided to China Daily
It was set up by the government in 1959 as a means of disease control to house patients suffering from the then deadly and contagious disease of leprosy.
Although the disease had already become curable and preventable, Zhang was surprised to find that the stigma about it remained.
"Time stood still in the village," Zhang recalled about her first visit. "More than 200 people in the village lived without water or electricity. They still used a flint to start a fire."
In fact, Zhang said, when villagers heard the horn of her approaching car they didn't even know what it was.
Zhaojue's residents have survived for three generations in the village built on a cliff.
The village is now home to 165 patients and 110 of their family members, most of them illiterate and discriminated against by nearby villagers.
The village is located in a region where the majority of residents belong to the ethnic Yi group, who traditionally believe leprosy signals being possessed by ghosts. They have been known to burn patients to death or throw them in the river.
If untreated, the chronic disease caused by bacteria can cause permanent damage to the skin, nerves, limbs and eyes, so sufferers' fingers and toes become shortened and deformed as the cartilage is absorbed into the body.
Many leper colonies remain around the world in countries including India, China and Japan.
In 1999, when Taiwan was planning to close its last leper sanatorium, Zhang became interested in the situation of leper colonies on the Chinese mainland.
With the help of a priest, who cared for leper patients on the Chinese mainland in the 1950s, Zhang found more than 20 leper colonies in Sichuan, Yunnan and Guangdong provinces.
She chose to visit Zhaojue.