BEIJING, March 14 (Xinhuanet) – "Angry Birds" game developers at Rovio have announced a funding of 42 million U.S. dollars to expand their "mean pigs, cranky birds" empire, according to foreign media report Sunday.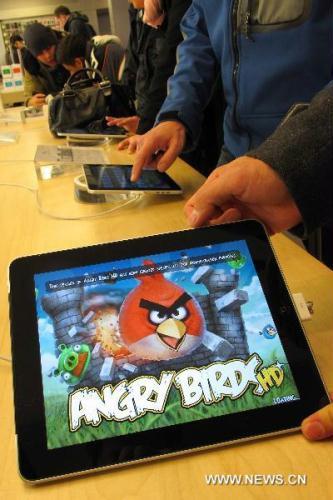 Customers play the "Angry Birds" on iPads at the flagship
store of Apple Inc. in New York, the United States, Dec.
12, 2010. The addictive game "Angry Birds" was named as
the No. 1 selling app. of 2010 for iTunes. The game
features the revenge of the Angry Birds on the green pigs
who stole the Birds' eggs. (Xinhua File Photo)
The funding, announced Thursday, is the first venture-capital money Rovio has secured. Richard Wong with Accel Partners, who led the firm's investment in Rovio, hailed "Angry Birds" as "an incredible consumer franchise beyond just being a mobile game."
With the newly raised funding, "Angry Birds" developers have made a strategic plan to achieve the brand growth of "Angry Birds."
According to developer Peter "Mighty Eagle" Vesterbacka, Rovio is going to expand the franchise of "Angry Birds" in a lot of directions such as movie, broadcast and TV.
"We are working on a game that will involve Facebook ... really the plan is to make "Angry Birds" playable everywhere," said Vesterbacka.
Besides its efforts in digital realm, Rivio is also exploring the potential toy market. Ravio has already sold over two million "Angry Birds" plush toys, which have broken into the mainstream retail channels.
Recently Ravio has also branched out into selling "Angry Bird" apparel.
"Angry Birds", hatched in 2009, has dominated Apple's list of top-selling iPhone apps since it took flight last year. It is now available on many other platforms -- iPad, Android, iTouch, and almost every other smartphone out there.
The game became world-polupar as it is easy to pick up and very addictive.
Rovio, a mobile game development studio founded in Finland in 2003, enjoys the reputation as one of the most innovative game shops in Europe.
Related stories
Editor:Zheng Limin |Source: Xinhua