LISBON, March 14 (Xinhua) -- Portugal is on the verge of a political crisis after the opposition vowed to block the budget bill containing belt-tightening measures.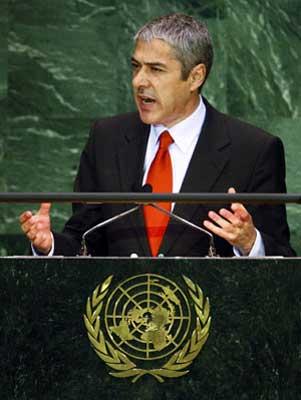 Portugal's Prime Minister Jose Socrates. (Xinhua/Reuters
File Photo)
In a televised statement to the nation Monday, Prime Minister Jose Socrates warned that if the new economic and budget measures will not be approved in the parliament, the parties that vote against them should be accounted for it.
Observers here believe the row could result in anticipated elections.
The crisis was triggered by the announcement by the government of a set of new measures to cut the deficit Friday. The initiative includes cutting retirement benefits up to 10 percent, and other budget reduction measures.
"What is in stake here is to defend our country from the need to recur to external help (the IMF). This is no time for party opportunism neither for the hunger for power. This is a time that demands stability, courage and work," Socrates said.
"We must win the battle for confidence by the European institutions and the financial markets. We have to lower our deficit from 4.6 percent of the GDP this year to 3 percent in 2012 and 2 percent in 2013 and for this we need additional measures. What we did was anticipate the announcement of these measures as an assurance that the deficit goal will be achieved," he said.
All the opposition parties have already announced that they will vote against these measures -- the minority government needs a political agreement with the opposition to approve the budget bill.
The opposition blames the government for negotiating the new measures with the European Union without presenting them first to the parliament for discussions.
Miguel Relvas, the secretary-general of the PSD, the main opposition party, explained his party's position.
"The government already knows that they cannot count on the PSD to vote for new sacrifices from the Portuguese," he said.
On the possibility of a crisis that will result in new elections, Relvas said: "The instability factor in Portugal is the prime minister. The government behavior is a clear indication that they failed. This government says one thing and does another."
Editor:Yang Jie |Source: Xinhua