SANAA, March 18 (Xinhua) -- Yemeni President Ali Abdullah Saleh declared on Friday a 30-day nationwide state of emergency as the death toll for clashes in the capital Sanaa on Friday rose to at least 45 and around 617 others injured, state media and the protest's organizers said.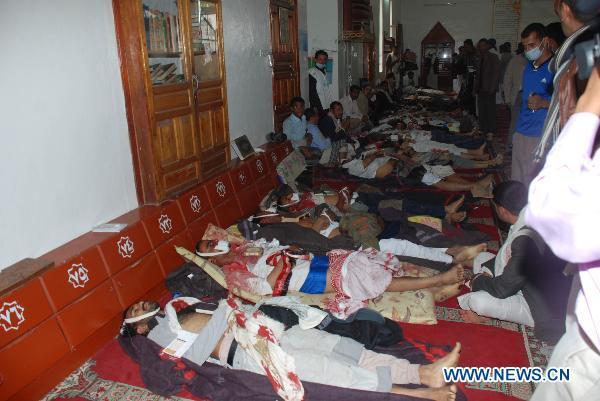 Bodies of those who were killed during the anti-government demonstration are bound with white cloth strips on their heads in Sanaa, capital of Yemen, March 18, 2011. (Xinhua/Yin Ke)
Official Saba news agency quoted President Saleh's remarks in a press conference as saying that "Friday's events aimed to foil mediation efforts by some Gulf states, including Saudi Arabia, to conciliate Yemeni rival political forces."
Saleh ordered the security authorities to impose a curfew only on people who carry arms and ordered authorities to confiscate their weapons. Sources at the interior Ministry said a comprehensive curfew is being discussed.
Meanwhile, the Interior Minister Mutahar Rashad al-Masri in a press conference denied that police were behind the shooting, saying that residents near the sit-in exchanged fire with the protesters.
Hassan Lukman, a protest organizer told Xinhua that four more protesters died from gunshot wounds later Friday, including Yemeni journalist Jamal al-Sharabi who was at the scene to cover the news, raising the death toll to 45.
"Some 270 anti-government protesters were wounded by live bullets immediately after Friday's prayers and 347 others were wounded by gas tear and water cannons later the day when a backup of police forces came to the scene to prevent further casualties," Lukman said.
As a response, Minister of Tourism Nabil al-Fakih, former Minister of Culture Abdulwahab al-Rawhani and former Minister of Agriculture Jalal Faqirah quit the ruling party in protests against what they called "the ruling party's armed violence against the protesters," according to a Xinhua correspondent.
Protest organizers estimated the number of protesters who attended the Friday's prayer outside Sanaa University Friday at more than 200,000. They said after the shooting, another thousands of protesters flooded the square outside the campus where the sit- in took place.
Mohamed al-Sabri, a spokesman of the opposition coalition, told Xinhua that "after Friday's massacre, there will be definitely no future conciliation talks with President Saleh."
UN Secretary-General Ban Ki-moon and U.S. President Barak Obama on Friday condemned the use of live ammunition by Yemen security forces against demonstrators in Sanaa and issued calls for "utmost restraint."
Tens of thousands of protesters reportedly took to the streets of the southern provinces of Ibb, Taiz, Aden, Hodayda and Hadramout to condemn what they described "bloodbath by the security authorities against Sanaa's peaceful protesters" and show support to the families of victims, as dozens of protesters were injured by police and government supporters' tear gas, batons and live ammunition in Hodayda.
Editor:Zhang Jingya |Source: Xinhua