Mark Selby steamrollered Allister Carter 5-1 with three total clearances to set up a semifinal clash with home star Ding Junhui in the Snooker China Open here on Friday.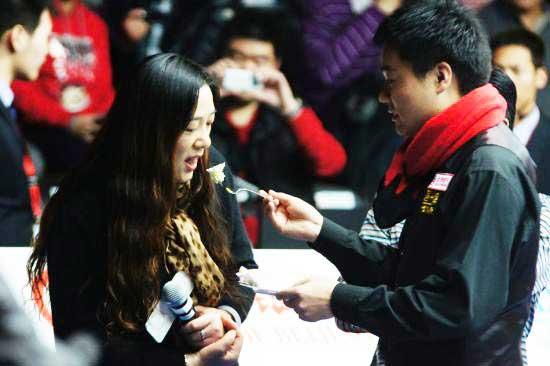 Ding Junhui shares a piece of birthday cake with his mother after beating Stephen Lee to
reach the semifinal in the Snooker China Open in Beijing April 1, 2011.[Photo/Sina.com]
After a scrappy first frame, superb breaks of 129, 130 and 139, which cleared the table, granted Selby a well-deserved win. Carter managed to pull a frame back in the fourth but was unable to pose serious threats throughout.
"He played very very well," said Carter. "I never scored a point in some frames."
The Wembley Masters champion surged into a 4-1 lead while his own mistakes allowed Lee to clinch the second frame. Lee then survived a very close frame but Ding sealed the victory in the seventh.
Chinese ace Ding Junhui competes during the quarter finals against England's
competitor, Stephen Lee at the 2011 World Snooker China Open in Beijing on Friday,
April 1, 2011. Ding beat Lee 5-2.[Photo: Xinhua]
"I played well at the very beginning with good long shots, good safety", said Ding, "but then had some trouble. Overall, I played OK."
Being asked about his birthday plan after the match, Ding joked, "I have to have dinner first."
Earlier in the afternoon, Judd Trump stormed into his second ranking event semifinals, hammering Peter Ebdon 5-1.
The 21-year-old from England left nothing to chance to join Shaun Murphy, who also cruised into the last four after beat current world number one John Higgins 5-2.
Trump started strong with a 130 break versus Ebdon's nil in the opening frame before going straight 4-0 up. Ebdon, 2002 world champion, delayed the defeat by grabbing frame fifth only to see Trump win in the sixth with half a century.
"It was my best performance of the week," said Trump. "I think everyday I got better. I feel more comfortable out there and I feel more at home."
The 2008 Grand Prix semifinalist played solid defence besides big breaks and he was pleased to see his efforts pay back.
"I've been working on that stuff (defence) this season," he said. "I think I've got better. It's one of the main reasons why I'm in the semifinals."
Murphy and Higgins split the first four frames but Murphy then geared up after the restart, wrapping up the battle with breaks of 108, 54 and 81.
Higgins, with three world titles under his belt, believes Murphy is playing better snooker now than when he became the world champion in 2005.
"I'm disappointed to lose but the better player won," he said, "I made a couple of mistakes at crucial times and Shaun is just the type of player you don't want to do that against.
"He played great to become world champion but maybe didn't have the safety game to compete in more and more tournaments. But now he's a top-class, rounded player and he's tough to beat at any time."
Related stories