Transportation has come a long way since the invention of the wheel. The recently-completed Beijing Auto Museum in Fengtai District pays homage to the evolution of vehicles from carriages drawn by animals to today's cars, both in China and abroad.
The museum's fifth floor allows visitors to follow the development of motor vehicles through history with working models, replicas, authentic antique cars, and plenty of captions in both Chinese and English.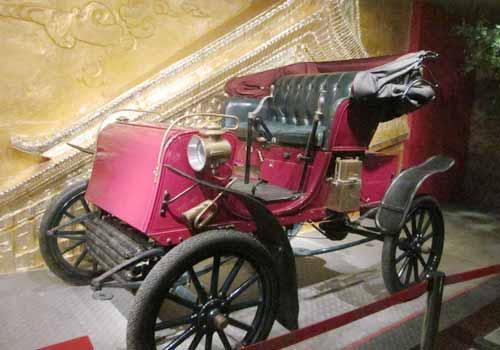 This 1901 Duryea is the same model given to the Empress Dowager Cixi by Yuan Shikai
for her 66th birthday.[Photo:CRIENGLISH.com]
The exhibit starts by recalling the invention of the wheel and how it revolutionized work, making it easier to carry loads and travel long distances. From the wheel, the museum progresses to specimens of horse-drawn carriages from ancient dynasties. Also on display is a working model of perhaps the world's first odometer. During the Han Dynasty (202 BC-220 AD), this device traveled in a cart with the emperor's caravan. Two ornate male figures were mounted next to a drum; the gears turned and, every 500 meters, one of the figurines beat the drum.
In 1885, the word's first automobile debuted: The Benz Patent Motorwagon. The replica on display at the Beijing Auto Museum shows the first Benz to be a three-wheeled wooden carriage with metal wheels. The engine sits between the two hind wheels, making the vehicle look like it's missing a horse to pull it. During one of the first public demonstrations, the car crashed into a factory wall, ruining the prototype. To convince the public of the vehicle's capability for travel, inventor Karl Benz's wife Bertha drove the Benz Patent Motorwagon 106km to visit her parents, becoming the world's first female driver, and driving the first long-distance trip.