The Vienna branch of Madame Tussauds opened on Friday at Vienna's Prater Park, becoming the Europe's fourth attraction along with London, Amsterdam and Berlin. Visitors have the opportunity to play around 65 wax stars.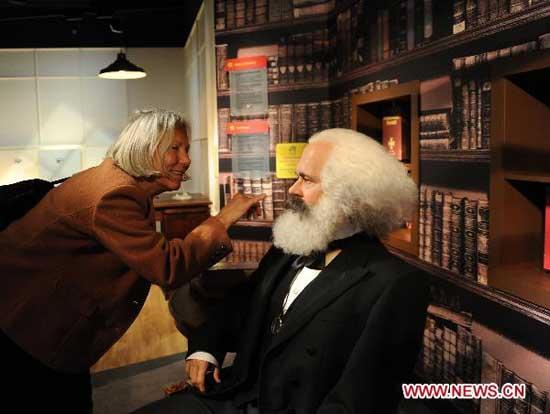 A visitor poses with a wax figure of Karl Marx at Madame Tussauds in Prater of Vienna,
capital of Austria, April 1, 2011. The Madame Tussauds Vienna, which is the eleventh
branch in the world, opened to the public with more than 60 wax figures on Friday.
(Xinhua/Xu Liang)
The preparation of the wax museum took two and half years and it covers an area of some 2,000 square meters, with a total investment capital of 8 million euros (about 11.33 million U.S. dollars). The museum was separated into eight theme halls, including history, musicians, politicians and visionaries, film and sport stars.
The wax museum also opens a wax workshop, providing related wax- making knowledge and the opportunity for visitors to make their own wax hand models.
Sophie Moritzer, marketing and trade sales manager of Madame Tussauds Austria, told reporters that Austria elements had been seriously considered into the preparation, which made the Vienna branch have much more local features. Twenty seven from 65 stars come from Austria from various times, such as the princess Sissi, Mozart, Beethoven, Haydn, Freud and Schwarzenegger.