Millennium-old Zhujiajiao just an hour from Shanghai offers a glimpse of ancient Yangtze Delta life.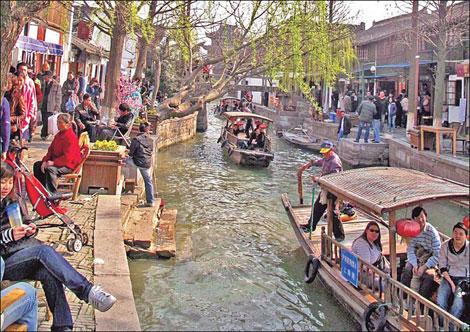 Zhujiajiao is a popular retreat for Shanghai people during holidays.
(Photo source: China Daily)
If you are in Shanghai and have just a day to explore the culture of a Yangtze Delta water town, locals will likely direct you to Zhujiajiao. An hour's drive from the People's Square in downtown Shanghai, the 1,000-year-old town is built around Dianpu Creek, a branch of the Huangpu River.
Small one- or two-story houses line the creek. In early April, willow trees along the banks begin to bloom, casting a reflected green light on the water, a sign that spring has finally arrived.
A bus to the town sets out from Shanghai's Pu'an Road bus station near the People's Square every 10 or so minutes, taking passengers to Zhujiajiao in the northern suburbs of Qingpu district.
The 12-yuan ($1.80) bus ticket enables a 50-minute journey along the expressway to Qingpu. On weekend mornings, you'll probably have to wait in line a little longer because it's a popular destination.
The old town is about five minute's walk from Zhujiajiao bus station, with its boundary marked by the famous arched Fangsheng Bridge built in the 16th century.
Buddhists who believe it's a virtue to rescue creatures from the kitchen table come to the bridge with fish and turtles and release them back into the water, giving the bridge its name - fangsheng, or to let live.
Yet just a half-kilometer upstream, a number of restaurants sell "freshly netted" fish and shrimp.
Houses along the river have been transformed into shops selling souvenirs and foods such as stinky bean curd, pork in soy sauce and rice dumplings wrapped in bamboo leaves.
This time of year, locals prefer dumplings filled with minced pork and bamboo shoots, available for only a limited period in spring when the shoots are fresh and tender.
A beautiful garden along the river hides among the hustle and bustle of Xijing Street. Kezhi Garden was built in 1912 by a banker from Shanxi named Ma Wenqing.
Most tourists seem put off by the 20 yuan ticket ($3), so it's unusually quiet in the garden, even on a weekend afternoon, enabling a pleasant stroll through the buildings that include open halls, pavilions and balconies.
The former home features the artistic interests of its owner - with calligraphy on the wall, and sculpture in the pavilions - but some of its grounds are dedicated to actual gardening, where leeks and garlic are grown.
Two Yulan magnolia trees were in full blossom with beautiful white flowers when I visited on March 26. In the weeks to come, peach, cherry and other blossoms are expected to come out.
Last year composer Tan Dun presented a site-specific outdoor production of The Peony Pavilion, a traditional Chinese Kunqu Opera. Audiences sat in the balcony and watched the classic love story across a shallow stream with a real pavilion, not stage props, in the background.
The show concluded in October at the end of the World Expo 2010.
At the gate to Kezhi Garden, a tiny dock serves boat rides for 60 yuan ($8.20) through the water town.
If you get off the boat at the far end of town, you'll find lanes less packed with tourists where a few coffee and tea shops in local households provide a view of the river along with the white walls and black roofs of the town's old houses.
Editor:Sun Luying |Source: China Daily