ABIDJAN, April 6 (Xinhua) -- Forces backing the internationally recognized president of Cote d'Ivoire, Alassane Ouattara, on Wednesday stormed into the residence of his presidential rival Laurent Gbagbo in Abidjan, the largest city in the West African country.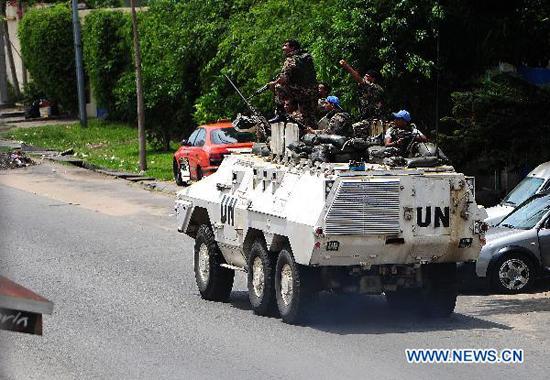 A United Nations armored personnel carrier patrols on a street in Abidjan, Cote d'Ivoire,
on April 6, 2011. Pro-Ouattara forces in Cote d'Ivoire affirmed on Wednesday that they had
launched an assault on the residence of embattled Cote d'Ivoire president Laurent Gbagbo.
(Xinhua/Ding Haitao)
Meanwhile, UN officials disclosed that contact was kept with Gbagbo for his surrender of power.
Affoussy Bamba, spokeswoman for the pro-Ouattara Republican Forces (FRCI), said she expected the raid on Gbagbo's last hideout to end within hours.
The FRCI would not kill the defiant strongman, but arrest him, she added. "When we shall arrest Gbagbo, we will take him to president Alassane Ouattara who will decide his fate," Bamba said in a statement following the renewed attack.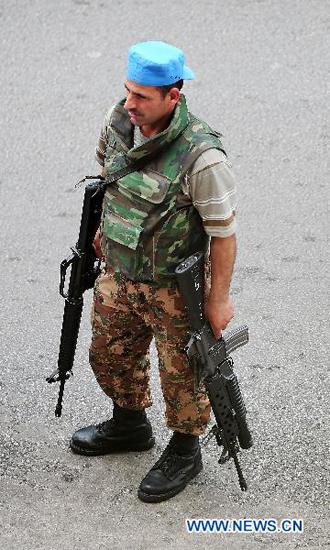 A United Nations peacekeeper stands guard at a street in
Abidjan, Cote d'Ivoire, on April 6, 2011. (Xinhua/Ding Haitao)
Heavy gunfire was heard as the FRCI fighters entered the gate of the presidential residence in the northern outskirt of Cocody in the city. Witnesses reported attack helicopters overhead in the assault to get Gbagbo out of the bunker he was confined to in the past three days.
Again the attackers met with stiff resistance from the Republican Guard and militiamen loyal to the 65-year-old incumbent president. Ouattara's camp said there was heavy weaponry left in the compound of Gbagbo's residence.
While fighting resumed one day after a ceasefire for talks on Gbagbo's surrender, UN officials said negotiations continued for his exit.
On Tuesday, the FRCI halted its final offensive after Gbagbo's representatives called for ceasefire for talks.
The negotiations, however, turned out a failure with Gbagbo rejecting the demand by France to sign a promise to recognize Ouattara as the legal president and cede power to his rival.
On the French TV channel LCI, he voiced his legality as the country's leader,saying "Ouattara has not won the elections" held on Nov. 28.
Related stories