Apple Inc.'s iPad 2 has topped the ratings by Consumer Reports, an influential U.S. magazine for product reviews, in the latest tests of the 10 most- promising tablet computers.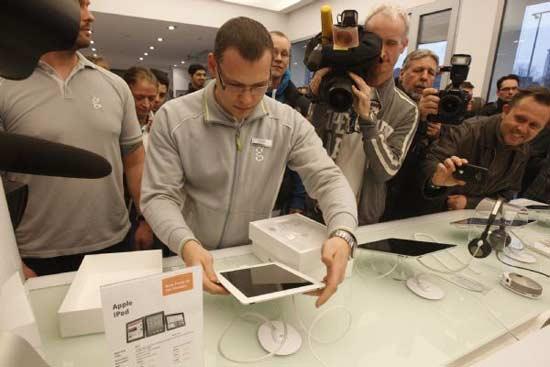 An employee sets up new iPad 2's at a computer store in Berlin, March 25, 2011. Hundreds of
customers queued outside Apple stores in Asia and Europe to buy an iPad 2 tablet computer
amid fears that shortages in the United States would be repeated abroad. The iPad 2, a
thinner and faster version that features two cameras for video chat, was introduced in the
United States on March 11, and analysts estimate about a million were sold in the first
weekend. On Friday, the rollout was extended to 25 countries including most of Europe,
Australia, New Zealand, Canada and Mexico.(Xinhua/Reuters)
According to the ratings released on Tuesday, the Apple iPad 2 with Wi-Fi plus 3G (32G), which is priced at 730 U.S. dollars, topped the ratings, scoring "excellent" in nearly every category.
Besides several models from Apple, other brands tested include Archos, Dell, Motorola, Samsung and Viewsonic. Each tablet was evaluated on 17 criteria, including touch-screen responsiveness, versatility, portability, screen glare and ease of use.
"So far, Apple is leading the tablet market in both quality and price, which is unusual for a company whose products are usually premium priced," Paul Reynolds, electronics editor at Consumer Reports, said in a statement.
The Motorola Xoom, whose price is 800 dollars, stood out as the iPad 2's main rival. It boasts several features that the iPad lacks, including a built-in memory card reader and support for the Flash videos.
The first-generation iPad, priced at 580 dollars, also outscored many of the other models tested but tied with the Motorola Xoom, according to tests by Consumer Reports.
Editor:Sun Luying |Source: Xinhua