RIO DE JANEIRO, April 8 (Xinhua) -- Hundreds of people attended on Friday the funerals of the 12 children killed in the massacre in a Rio public school on Thursday morning.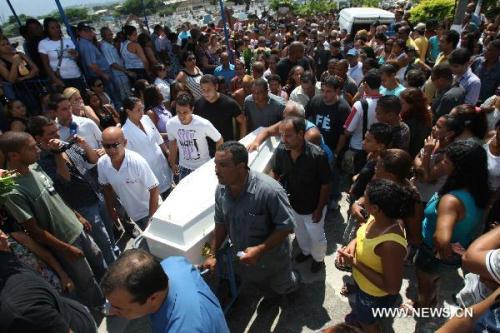 Coffin of Larissa Silva Martins, a victim of the shooting in Tasso da Silveira
school, is moved during the funeral at Murunbu cemetery in the west of Rio de
Janeiro, Brazil, April 8, 2011. (Xinhua/Tasso Marcelo/AE)
So far, six children were buried in three different cemeteries in Rio's western region. Other five are to be buried in the afternoon, and one child will be cremated.
In a sign of respect, a police helicopter threw rose petals at the children's graves. Rio's Mayor Eduardo Paes attended the morning funerals, as did Human Rights Minister Maria do Rosario.
Brazilian President Dilma Rousseff did not attend the funerals which took place in the morning, and it is not known whether she will attend any of the ceremonies scheduled to occur in the afternoon. The president said on Thursday that she would try to attend the funerals before departing to China in the evening.
The unprecedented massacre shocked Brazilian society. Ten girls and two boys between the ages of 12 and 14 were shot dead by a man who entered a public middle school and opened fire at the students.
Other 11 children, mostly girls, remain at the hospital, three of whom with serious injuries. One 13-year-old girl may be paralyzed from the waist down.
According to doctors and witnesses' reports, the killer was especially vicious at girls, and aimed at the heads and chest of his victims.
The gunman, identified as 23-year-old Wellington Menezes de Oliveira, a former student of the middle school, shot himself in the head after being cornered by a policeman who was fast to reach the scene.
According to authorities, if not for police sergeant Marcio Alves, the number of victims might be much larger, as the gunman left behind an impressive amount of ammunition, enough to kill dozens of other students.
The shooter was carrying a pair of revolvers and speedloaders to help reload the guns faster. He was also wearing a bulletproof vest, earplugs to avoid the noise of the guns, and a belt loaded with bullets.
The gunman left behind a rather long and convoluted letter with instructions on how his body should be handled. He also asked God' s forgiveness, requested to be buried beside his mother's grave and said the house he lived in should be donated to animal protection organizations.
The letter did not, however, mention the crime or motives of any kind. In interviews to local TV stations, several psychiatrists pointed out that the gunman showed signs of psychosis.