WASHINGTON, April 8 (Xinhua) -- A deal between U.S. Republicans and Democrats on the federal budget remains elusive on Friday, as the two caucuses struggle to reach a compromise before the midnight deadline, when the government would be shut down.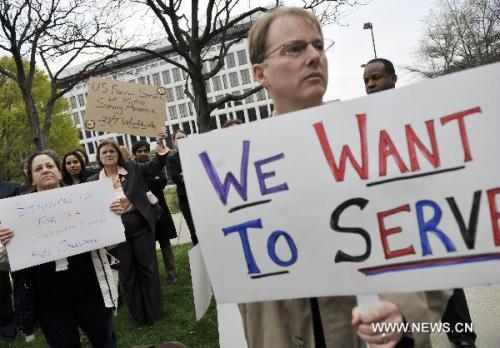 U.S. diplomats hold placards during a rally in support of federal workers
against the prospect of a government shutdown outside the State Department
in Washington D.C., capital of the United States, April 8, 2011.
(Xinhua/Zhang Jun)
Senate Democratic Leader Harry Reid, together with his Democratic colleagues in the upper chamber of the Congress, told an afternoon Capitol Hill briefing that he and Republican House Speaker John Boehner reached a number on how much to cut during negotiations on Thursday night at the White House, but at 4 a.m. Friday, he received an email that says the Republicans are backing out of the deal over a policy rider defunding Planned Parenthood.
Republicans, however, reject the accusation. Boehner said earlier in the afternoon that differences on the level of spending cuts are preventing Congress from reaching a deal on the budget. He insisted his party wants to avoid a government shutdown, saying "almost all" of the policy differences have been dealt with. Earlier reports said the two parties have agreed on 38 billion dollars of cuts.
Meanwhile, Democrats introduced a week-long stopgap spending measure in a last-ditch attempt to avert a government shutdown. Senator Max Baucus, the Senate Finance Committee chairman, said Democrats are stripping the family planning provision out of the spending negotiations to stage a separate vote on it in order to reach an 11th-hour deal.
Related stories