For retired British pediatrician David Flynn, a week of tanning and surfing in the tranquil Egyptian coastal town of Dahab was too tempting to resist, although he had to travel alone.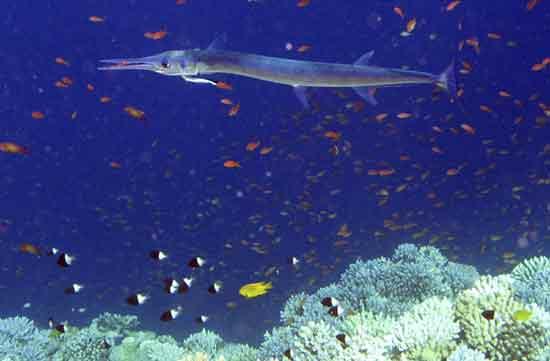 A Cornetfish swims past a reef in the Red Sea, in Dahab, about 600 km (373 miles) southeast
of Cairo, July 28, 2009. (Xinhua/Reuters File Photo)
"I have been here three times, and it's great to have the warm weather and all the snorkelling and surfing facilities here," Flynn said.
He said it did not worry him even if he had to hang out in the town center at night. But some of his friends back in Britain still have concerns for the security in Egypt.
Small groups of tourists have returned to Dahab and other Red Sea resorts including Sharm El-Sheikh and Hurghada in the past month, but far from enough to help the country's tourism pick up quickly after the turmoil from late January to early February.
In Dahab, a town known for its much coveted diving site "Blue Hole" and its proximity to Sinai's biggest cultural attraction St. Catherine's Monastery, most of the restaurants and cafes remain desolated, except for a few popular ones of sea food and oriental cuisine.
Tamer El Adawy, a 28-year-old diving coach in the town, said he had received two Swedish tourists for some courses last week, but the business was quite scarce, compared with the same season last year.
Instead of conducting several 50-U.S.-dollar introduction diving courses a day, he sometimes spent a whole day guiding tourists for snorkelling tours, which would only get him a tip of five to 10 dollars.
Tamer's brother Mohamed, who is running a travel agency in Dahab, said: "We used to arrange half-day speed boat diving and snorkelling trip for 300 dollars, but now you can pay half the price and have the boat all day."
Mohamed said he did not anticipate any security problems, and he hopes that more foreign tourists would feel comfortable taking desert safari and riding quad bikes into the wilderness of Sinai.