WEIHAI, Shandong Province, April 15 (Xinhua) -- When two pairs of rare deer and goats from Taiwan arrive on the Chinese mainland Saturday, they are unlikely to feel unaccustomed to their food.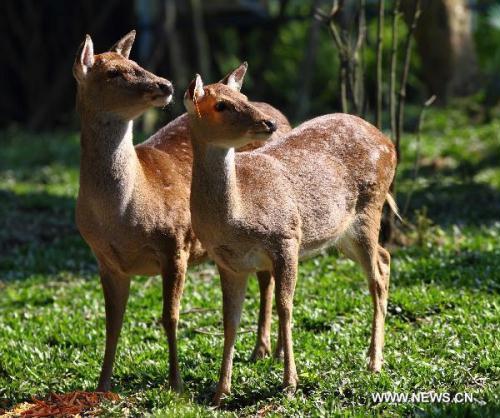 Photo taken on March 29, 2011 shows two female Taiwan's indigenous spotted
deer in a zoo of Taipei, southeast China's Taiwan. This kind of spotted deer
merely inhabits in Taiwan. Taiwan will send a pair of indigenous goats and
a pair of spotted deer to Liugongdao National Forest Park in Weihai of east
China's Shandong Province on April 16. (Xinhua/Gong Bing)
Since the Liugongdao National Forest Park was chosen to accommodate the animals donated by Taiwan's Taipei Zoo in late 2009, experts from the park, the Chengdu-based Deyang Luxin Forestry and Agricultural Products Co. Ltd., and the Taipei Zoo have developed tasty and safe menus for the four animals.
The rare goats and deer native to Taiwan are an exchange for a pair of giant pandas the mainland offered Taiwan in 2008. The pandas currently live at the Taipei Zoo after arriving on the island.
Wang Jiansong, head of the park, said experts from both sides of the Taiwan Strait held extensive exchanges on how to prepare the menu.
The park sent two breeders assigned to the pair of critically endangered Sika deer to the Taipei Zoo for training last year. This year, two breeders for the pair of serows, a small but agile mountain goat, were also trained at the Taipei Zoo.
There, the breeders stayed with the pairs of animals around the clock, familiarizing themselves with the animals' dietary habits and the zoo staff's breeding methods.
The Taipei Zoo provided the park with two extensive menus, one for each pair, that specify the types and amounts of food, breeding times and other useful information.
The menus also offer various breeding and feeding tips. One feeding tip instructs breeders where to hold leaves, carrots, sweet potatoes and water.