BELGRADE, April 16 (Xinhua) -- Over 50,000 opposition supporters gathered before the Serbian parliament in Belgrade on Saturday, demanding an end to corruption and an improved standard of living in the country, while the Serbian opposition leaders called for early elections before the crowd that had come from throughout Serbia to attend the rally.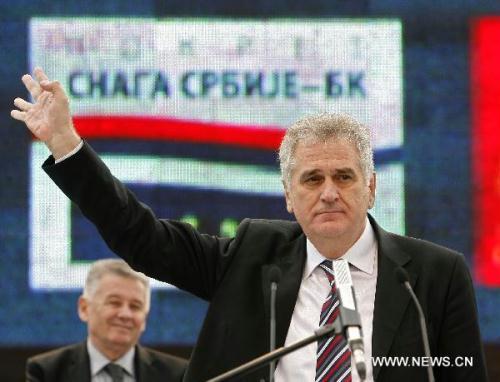 Tomislav Nikolic, leader of Serbia's Progressive Party, speaks during a
protest rally in Belgrade, Serbia, on April 16, 2011. Thousands of
opposition supporters demanded early elections in Serbia, blaming
Serbia's pro-Western government for a deepening economic crisis
and alleged corruption. (Xinhua)
Under the banner "Time for Change," Tomislav Nikolic, the leader of the largest opposition party, the Serbian Progressive Party (SNS), announced that he would immediately begin a hunger strike to force the government to dissolve the current session of parliament.
"Since this morning I have not taken any food or water," said Nikolic. He asked them to respect his "final" battle for a better Serbia.
In recent opinion polls, the opposition coalition headed by Nikolic's SNS, with only 21 of the 250 seats in the national assembly, has surged ahead of the current government, which they blamed for rising unemployment and a sluggish reform process required for Serbia to join the EU.
In addition, austerity measures have led public sector workers, including doctors, teachers and police demanding pay increases to threaten walkouts. Serbia's economic growth has yet to recover the jobs lost since the financial crisis of 2008.
In a direct challenge to Serbian President Boris Tadic to call early elections, Nikolic said his fate was now in the hands of the president.
Aleksandar Vucic, deputy leader of the SNS said Tadic had only "a few more hours to react, as that is how long SNS leader Tomislav Nikolic can go without water."
There was no official response from the president's political party, the Democratic Party. However, Minister of Interior Ivica Dacic, leader of the coalition partner Serbian Socialist Party ( SPS), called for dialogue to achieve political goals and questioned the motive for the hunger strike.
Dacic told Radio Television Serbia (RTS) that with the ruling government's mandate ending in a year, the timing of the next elections "should not provoke political instability".
Velimir Ilic, leader of the New Serbia Party (NS), told the demonstrators that average Serbian citizens were having difficulty surviving the current economic situation. He called on early elections as the only option.
"We do not want to tear Belgrade down; we will not tear down Serbia," said Ilic, "We want elections to bring down this government."